Catering Insight gives a full run-down on the latest foodservice equipment relating to FOG (fats, oils and grease) to educate dealers on the appliances they should specify to keep kitchens operating safely and cleanly:
Mechline BioCeptor and Food Waste Strainer
Product: Mechline's BioCeptor and Food Waste Strainer work in conjunction as an all-encompassing drain management system, designed to prevent food and FOG from entering the drainage system. BioCeptor combines the traditional principles of entrapment and retention, with the natural process of bioremediation, to permanently degrade FOG onsite. As a result, there should be less FOG waste to deal with and fewer licensed waste collections required. BioCeptor prevents FOG from reaching the drain, and, thanks to its biological dosing component (GreasePak), prolongs the time it takes for the FOG Intercept and Treatment (FIT) unit to reach its capacity. This should reduce the frequency of emptying/servicing needed – and associated hygiene risks. The Food Waste Strainer is designed to reduce the build-up of food waste sediment in the drainage system, and in grease traps/interceptors, which helps to prolong their service intervals. For Mechline's BioCeptor, this should mean that fewer food particles are able to make their way into the FIT unit, so the system takes longer to reach its capacity and can continue working effectively for even longer.
Story continues below
Advertisement
USPs: The FIT unit, which is designed to be as compact as possible by using flow control technology that allows the product to be much smaller than a standard grease trap; BioCeptor's GreasePak biological dosing component, which contains in excess of 500m naturally occurring bacteria per gram to permanently break down the captured FOG; and ease of use, with the unit's chamber sealed to prevent odours.
Launch date: BioCeptor was introduced in 2018, with the Food Waste Strainer launching in 2019.
List price: BioCeptor: £997.70; Food Waste Strainer: £323.00; BioCeptor and Food Waste Strainer combined: £1,320.70
Filta Group GreaseMaster liquid separator
Product: The GreaseMaster from Filta Group is an immiscible liquid separator which separates FOG carried in effluence and discharges it into an external container. The process relies on the principle that oils floats on water. With continuous operation, GreaseMaster is a sustainable system designed to fit under the sink to remove FOG before it gets to the drains, and it is suitable for sinks, dishwashers, rotisserie ovens and combi ovens. It has a claimed 99.6% separation rate to ensure that drains remain clear, achieved through a grease cleaning process. It works in three stages: food removal, where any unwanted food debris is automatically captured and held in a removal food strainer basket; FOG separation, using a chamber to separate the FOG and ensure that it is disposed of safely and won't enter the drainage system; and FOG removal, using hydrostatic pressure to force the FOG out of the oil valve and into the oil collection cassette. Filta walks its customers through the various options and explains how its FOG management systems can ensure sites meet legislation. Each system is also sized to meet exact requirements, complete with a personalised maintenance schedule.
USPs: GreaseMaster has no moving or mechanical parts to break or maintain, is available in five different sizes for complete flexibility and can be installed either way around. These features should help to ensure quick and hassle-free mobilisation.
Launch date: The technology behind GreaseMaster has been in existence and continuously refined since the late 1990s. Filta has been the exclusive UK supplier of the system since October 2018.
List price: Starting from £1,750
Frontline International Smart Oil Management
Product: Exclusively supplied in the UK by Jestic, Frontline manufactures a range of equipment for the automated storage, handling and disposal of cooking oil and grill grease. Frontline equipment is claimed to be able to pay for itself in 12 to 16 months. The systems can either be plumbed-in, to give operators a fully automated, hands-free system that manages the removal of waste oil to a storage tank ready for collection, before replenishing the system with fresh oil or, if plumbing isn't feasible, wheeled caddies can be rolled under fryers to receive waste oil which can then be pumped into the storage tank. For fryers without a filtration pump, Frontline has a pump station option which can move oil along to a storage tank at the push of a button. The used oil storage tanks are constructed from heavy-gauge stainless steel and are available in a variety of sizes for either internal or external use. They feature anti-theft electronic locking mechanisms and are linked to a data-fed web interface.
USPs: Jestic's sales team can advise on all aspects of implementing Frontline's Oil Management System including site audits, demonstrations and training tailored to suit the operator's precise needs. In addition, Jestic's Technical Services team of 45 factory-trained technical specialists, offers a range of preventative maintenance and reactive repair services 24 hours a day, 364 days a year.
Launch date: Smart Oil Management became available via Jestic Foodservice Solutions to UK dealers in August 2019.
List price: Starting from £3,600 for Frontline caddies and starting from £6,700 for waste oil tank systems
EPAS GreaseShield grease recovery unit
Product: The GreaseShield is a specialist grease recovery unit that removes fats, oils and especially emulsified animal fat, protecting the commercial kitchen drainage network. The removal of the FOG at source is demonstrated with independent testing and certification to a level of 100 parts per million discharge to drain. The GreaseShield is said to eliminate frequent pumping costs, grease trap emptying and recurring drain blockages. The Mechanical Grease Trap operates in real time, taking advantage of waste thermal energy present in effluent being discharged from commercial kitchens to remove emulsified fats, oils, and grease, particularly saturated animal fats, before they solidify. The inlet and outlet is on the same side with a reverse directional flow to enhance the removal of FOG. The unit removes and dewaters organic solid matter by means of a pre-filter, preventing anaerobic foul smelling conditions. Plus it recirculates grey effluent internally to promote greater efficiency of FOG removal, and there is no need for biological agents/enzymes.
USPs: It is said to be the only grease recovery unit in the world that does not follow the same design as the original grease trap patent of 1884. It incorporates a vortex flow controller to regulate flow without causing an impediment to entrained wastes, as well as a roller made of a material to attract FOG to enhance removal. GreaseShield has an electrical consumption of 16W/h, claimed to represent the lowest energy consumption in the GRU sector.
Launch date: GreaseShield commenced development in 1998 and was launched officially in 2002. Research and development is ongoing to improve the efficiency and enhance FOG removal.
List price: £3,560
Kingspan SmartServ Grease
Product: Kingspan's SmartServ Grease has an efficiency rating of 96%, which should mean very little grease escapes from commercial kitchens into the drains, reducing the risk of sewer blockages. The grease trap's measuring and remote monitoring capabilities can enable it to be a predictive tool. Data on the fill level can be reviewed remotely, which means that tankering companies and biodiesel producers are able to forward plan transport and operations to recycle and reuse the FOG waste. Plus, there is no operational downtime or disruption for kitchen teams. Biodiesel producers require this level of visibility for FOG recycling to be a financially viable process. Water companies and biodiesel producers are now actively looking at ways FOG can be used as the bio-component for high-grade, sustainable diesel. Kingspan is part of discussions at government and local authority level for major projects in UK cities. This type of project could offer an attractive payback for those food outlets who partner with strategic biofuel manufacturers.
USPs: Kingspan's SmartServ Pro is an estimated 60% more efficient than any other grease separator. It also has a relatively small footprint so it is suitable for most commercial kitchen applications.
List price: Pricing is tailored to the application but it is reportedly at the same price point as other solutions on the market
Britannia Ultrastream canopies
Product: Britannia's Ultrastream ventilation canopies use Ultraviolet C (UVC) light to provide secondary grease removal and destroy odours, which helps protect extract ductwork. When the grease carried in the airflow is exposed to the high-powered UV light, it goes through two processes – photolysis and ozonolysis. Together, these should break down the long chain grease molecules and the odorous molecules in the air as they travel through the extract system. Ultrastream is aimed at reducing the risk of grease build-up and the associated issues and keeping costly ductwork cleaning to a minimum – only an annual inspection and occasional hygiene clean should be needed. Britannia's Ultrastream technology can be retrofitted into all Britannia canopies, though for sites without these, Britannia offers a duct-mounted Ultrastream system. For extract systems requiring additional odour control, smoke removal and ozone removal, Ultrastream systems are available with the Ecostream filter set into the duct run.
USPs: The two-stage baffle filters, which are combined into one unit, are claimed to make the Ultrastream system unique. These filters provide the first stage of grease removal and also act as a physical barrier to reduce the spread of flame before the UVC system. From these filters, the extracted air then passes through the UVC reaction chamber, located deep inside the canopy, allowing the grease to be removed at source. The filters are also said to be easy to clean, as they can be removed and put in a commercial dishwasher.
Launch date: Britannia has been designing and manufacturing Ultrastream canopies for over 18 years, evolving the design over that period of time.
List price: Britannia's modular construction allows for flexible, bespoke solutions, whilst providing efficiencies in production
Big Dipper grease recovery unit
Product: The Big Dipper automatic Grease Recovery Unit (GRU) removes FOG at the source, be it a pot wash sink or a pre-rinse sink at dishwashing, keeping the downstream piping free of dangerous grease build-up. The centre module features a digital time control, heater assembly and mechanised skimming assembly. Every Big Dipper unit features a fully automatic self-cleaning cycle that removes collected FOG from the tank and includes a digital control interface and FOG collector. A digital control maintains the self-cleaning operation, activating the skimming wheel periodically based on the setting chosen. Only the 'cleaned' water exits the unit and flows into the facility drain lines.
USPs: Big Dipper supplier Aqua Mundus believes the unit is the most flexible and user-friendly grease separator in the world. Each Big Dipper unit is made of corrosion resistant materials, said to be suitable for installation in virtually any location. Its compact design fits into space-constrained locations and includes a fully integrated 'motor/grease outlet/heater/lid' that can be quickly reversed to fit either side of a pot wash sink. This same modularity should enable 10-year-old Big Dipper units to be quickly updated to the newest operating versions. One of the latest features, for instance, is 'advanced odour protection' (patent-pending), which keeps odours inside the tank and out of the operating kitchen.
Launch date: First introduced in 1987, Big Dipper has had a number of patented technological improvements applied since. The most recent technology advance is the fourth generation AST model, which was introduced in 2019.
List price: £3,396
Trapzilla grease separator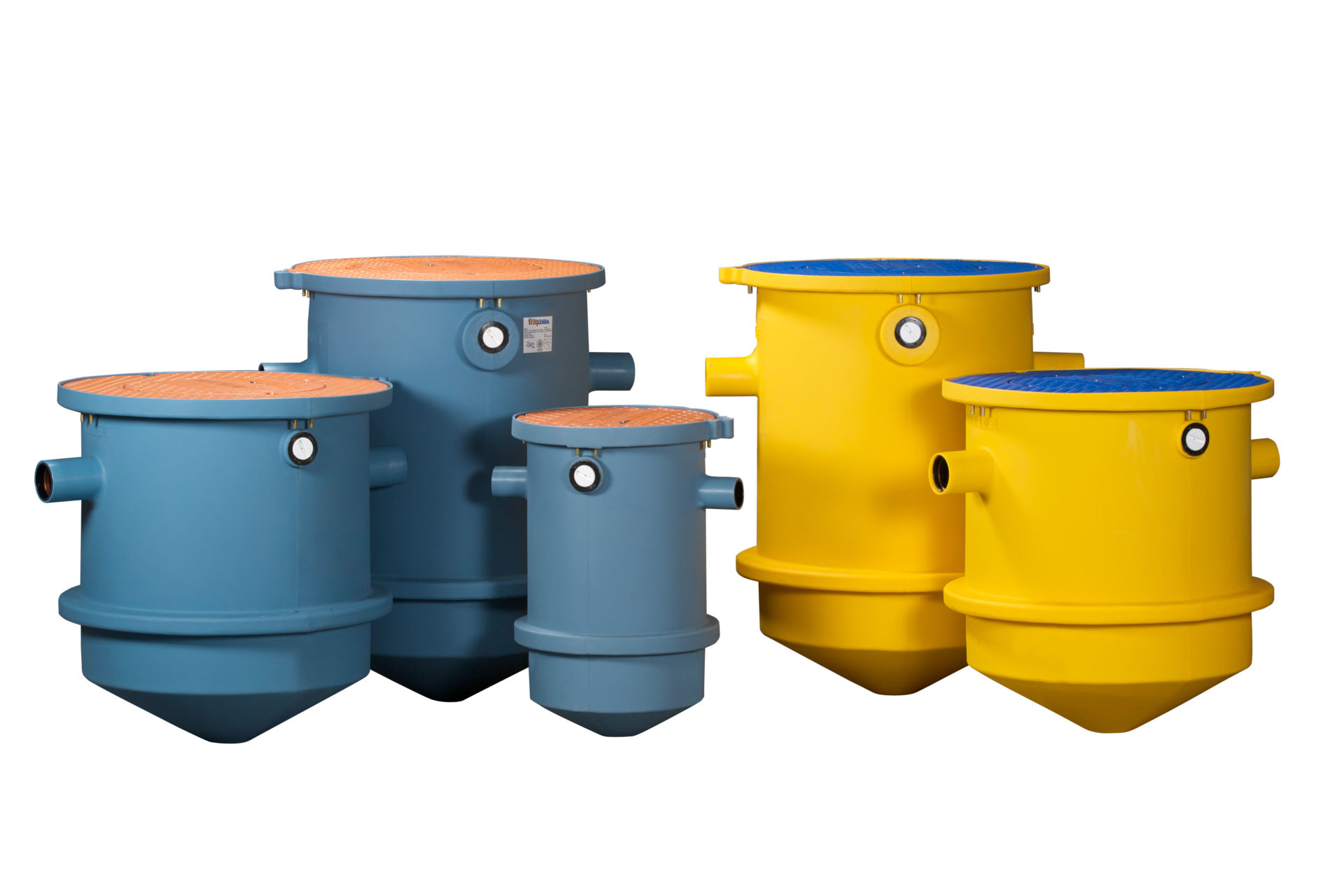 Product: Each Trapzilla super capacity grease separator is engineered to control water flow in a way that should allow maximum FOG collection. Tested and certified to North American ASME and European EN 1825 standards, the Trapzilla features an integral horizontal baffle, laminar inlet flow diverter and separate storage compartments for grease and solids, all of which are designed to work together to effectively and efficiently remove FOG from the water flow. Trapzilla grease separators are also made of polyethylene plastic, which shouldn't leak, crack or erode the way steel and concrete grease separators do.
USPs: A patented horizontal baffle allows the Trapzilla to capture and remove up to a claimed 99.3% of the grease entering the system. Trapzilla is said to be engineered to capture the most grease in the smallest footprint, holding up to 90% of its total capacity in grease without losing separation efficiency. Even as they fill to capacity, Trapzilla grease separators are designed to continue to remove grease from wastewater. The units are also claimed to be uniquely flexible and easy to install. The lightweight, compact design should allow it to be manoeuvred into position with minimal labour. Installed on the floor, suspended from the ceiling or in-ground outside the facility, Trapzilla is claimed to perform better in a more compact footprint than any other high-capacity grease interceptor in the market.
Launch date: The Trapzilla launched in 2006 after more than 4 years of testing and development.
List price: Starting from £1,750 + VAT for a TZ160