With several major foodservice trade shows being held in the autumn, refrigeration manufacturers are lining up to make a splash in the market with new launches. Catering Insight delves into the top 10 latest refrigeration appliances on offer.
Gram Baker Pro GA 950
Specifically designed for the bakery sector, the Gram Baker Pro GA 950 boasts three-in-one refrigerator, freezer and proving capabilities. The GA 950's display screen is designed to provide bakers with a clear overview of all refrigeration, freezing and proving processes at all times. In addition to this, the operator is able to choose between eight pre-set standard programs for an easy start-up. For further flexibility, bakers can make their own refrigeration profiles, tailoring the GA 950's settings according to their menus, food items and bakery offering. Roz Scourfield, national sales manager at the Gram brand's owner, Hoshizaki UK, advised distributors: "As well as making customers aware of the comprehensive 3-year part and labour warranty that comes with this unit as standard, dealers should also look to push the incredible energy saving credentials of the Gram Baker GA 950. In fact, so sustainable is the GA 950 that it boasts top level climate class 5 ranking and is able to efficiently operate in ambient temperatures of up to 40°C."
Story continues below
Advertisement
Electrolux Professional ecostoreHP refrigerated counters
Electrolux Professional's ecostoreHP refrigerated counters range is an entry level option for those seeking high-end refrigeration capabilities. For example, it has a climate class rating of 5, which should ensure contents are kept at a cool temperature, even in the warm surroundings of a busy kitchen. As with all of the manufacturer's refrigeration models, the ecostoreHP uses R290 refrigerant gas, which is said to be environmentally friendly and can save up to £400 a year in bills. The counters range offers customisation on: size, worktops, compressor position, mounting options, drawers, and locks on doors/drawers. Design and product manager Steve Bowler detailed: "To establish which options are best suited to their kitchen, caterers should speak with distributors, to discuss the range of considerations." He further noted: "While Electrolux Professional's ecostoreHP range is designed to meet the very highest standards, it is important that entry level models are capable of satisfying the demands of a busy kitchen. By incorporating the latest technology into its ecostoreHP refrigerated counters range, Electrolux Professional has implemented the latest advancements into entry level models. This provides all caterers, regardless of the size of their operation, with the opportunity to utilise the best that refrigeration equipment has to offer."
Jordao Next refrigerated counters and cabinets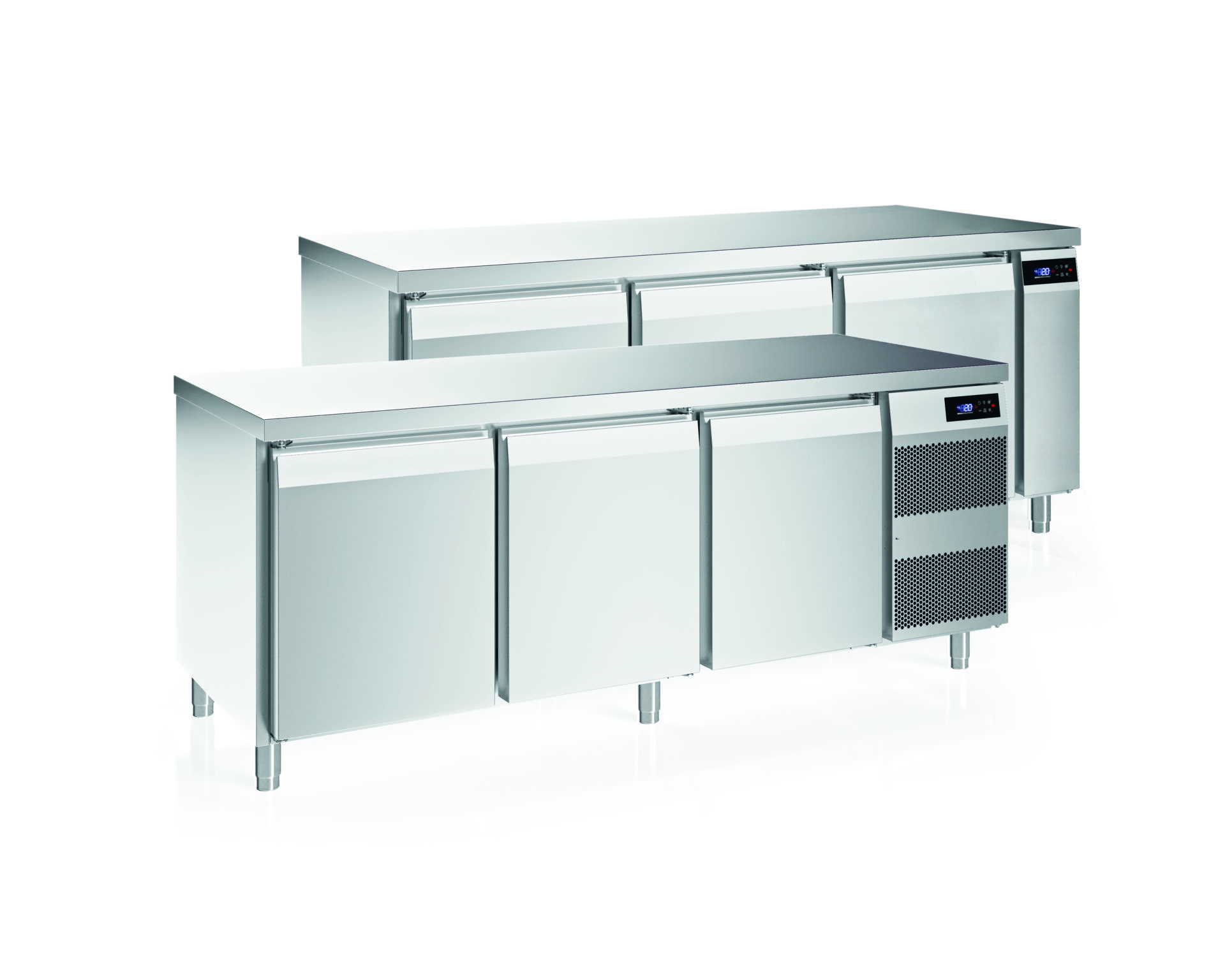 Next is the latest range of storage refrigerators and freezers – counters and cabinets – from Jordao via Valera in the UK. The range is available in two models, Next and Next A5, with variations and options designed to fulfil all specifications for the modern catering service. The counters are available as: Catering model (600mm wide), Gastronorm model (700mm wide), Bakery model (800mm wide) and specialist Saladette and Pizza models. While the cabinets come in sizes comprising: GN 1/1 model (765mm wide), GN2/1 model (842mm wide), Bakery model (842mm wide) and Ice-Cream model (977mm wide). Integral and remote condensing unit models are available, as well as glass doors with LED lighting to facilitate service and promote sales. All units use R290 natural gas with low GWP, following the fluorinated gases phase-out regulations. Operated by what is designed to be a user-friendly touch control panel, each model in the range can use remote monitoring to enable online control and preventive maintenance. The positive temperature models are rated A for energy efficiency, with the negative temperature models achieving class C, which Valera feels is among market best results. Most units were tested for Climatic Class 4, up to 30°C/55%RH, with the heavy duty Next A5 ready for Climatic Class 5, up to 40 °C/40% RH.
Williams Meat Ageing Refrigerator
Alongside its established range of walk-in meat ageing models, Williams has now launched a new Meat Ageing Refrigerator. The manufacturer believes the cabinet caters to the recent trend for dry aged beef, which should enable a great end product as well as displaying to diners front of house the process and the quality of the meat. Williams' Meat Ageing Refrigerator operates at the suitable temperature range of +1 to +6°C and provides humidity between 60-90%, which should ensure that meat ages well. The inclusion of Himalayan salt blocks assists with moisture management and is said to improve the flavour of the meat. The meat ageing refrigerator is able to operate in environments of up to 43°C and the interior is lit with energy-saving LEDs for front of house display. Meanwhile, a personalised touch can be added with Williams' Chameleon wrap service, slotting the refrigerator into any décor or setting. Ageing conditions are maintained by the presence of a self-closing glass door, coupled with heavy duty, PVC magnetic balloon gaskets that should provide a 100% tight seal. A barrel lock also provides security and reassurance in a front of house setting. The Williams CoolSmart controller is designed to ensure energy efficiency and a clear digital display shows the status of the unit.
Precision Retro Refrigeration
Precision has expanded and further improved its Retro Refrigeration range. Launching at the Host Milan show, Precision now offers two-, three- and four-door back bar units as part of the range. This vintage styled range of back bar units features robust and classic styled hinges and door handles, designed to give any bar an iconic vintage look. Also new for the Retro Refrigeration range is a one-door upright cabinet, available in solid doors, clear or reeded glass, or wooden doors with coloured LED lighting, and external dimensions of 600mm W x D 685mm x H 1,890mm. It is suitable for storing both food and beverage items. The Retro Refrigeration range now caters for both upright cabinet and back bar requirements, so customers can enjoy the vintage design and iconic look of the Retro Refrigeration range in a wider array of foodservice and beverage areas. Metal finishes available for all models include: burnished, mirrored and brushed stainless steel. All Retro Refrigeration products are available in many colour choices to suit any kitchen or bar layout: Precision can paint the product to match any RAL number colour. Christine Hartshorne, marketing manager at Precision Refrigeration commented: "The Retro Refrigeration has Precision's modern professional refrigeration system in-built, whilst featuring vintage looks, to accommodate bar and restaurant layouts that want to embrace the classic retro design."
Liebherr GKPV and GGPV refrigerator and freezer range
Liebherr recently launched a new stable door model refrigerator and freezer, the GKPV 6577 refrigerator and the GGPV 6577 freezer. They have capacities of up to 596litres. Designed to provide temperature stability in high ambient temperature conditions that busy foodservice operations generate, the range's focus is on safe food storage – additional benefits are said to be lower energy consumption figures. The figure for 24 hours of operation is 1.581kWh. The GKPV 6577 will operate from -2°C up to +15°C and the GGPV 6577 will operate from -10°C to -26°C. Liebherr's models are climate class 5 and can operate in 40°C ambient temperatures. Like all the manufacturer's commercial refrigeration, these new models are constructed with moulded 304 stainless steel interiors and with built-in cleaning drains. Options of legs and castors and the fitted locks on reversible doors are designed to be additional benefits.
Prodis NT series bottle coolers
Project Distribution (Prodis) recently redesigned and upgraded its NT series bottle coolers to add new features to the range, increase reliability and make the units more user friendly. Prodis believes the biggest improvement is increasing the usable internal volume by up to 7%. This was gained by redesigning the refrigeration system and increasing the depth of the base shelf of the undercounter models. The interior has been upgraded to white aluminium to allow for easy cleaning and maintenance whilst the shelves are now plastic-coated to aid in bottle stability and allow for easier loading and unloading. National accounts manager Darren Mairs reported: "The NT series has proven to be a very reliable unit with most faults developing due to misuse. To overcome the small number of problems experienced we have made a few design changes to the range. All coolers are now fitted with a covered evaporator to prevent accidental damage due to users attempting to manually defrost the units with a sharp implement and the digital temperature controller is now recessed and covered to prevent damage to due to knocks or spillages." He added: "After exhaustive field testing, we have now moved the entire NT range to R600a hydrocarbon refrigerant which is not only more energy efficient and economical to run but is also kinder to the environment."
Victor Evolution refrigerated displays
Victor Manufacturing's latest refrigeration products are the larger 1,500mm and 1,800mm refrigerated units within its Evolution range, a number of which have been supplied via Nisbets to FoodCo, the company behind coffee chains, Muffin Break and Jamaica Blue. The new units are used to hold a range of fresh products. They come fully enclosed with four sliding rear doors and LED lights under each shelf, illuminating the products. Each unit circulates air through the rear to allow for a streamlined, contemporary front counter without the need for ventilation grills. This, combined with a black edge trim, is designed to create a modern, stylish look suitable for delis, coffee shops, convenience stores and other food-to-go outlets. Victor believes its new Evolution unit pushes the boundaries when it comes to the look of refrigerated display units. It is designed to be more aesthetically pleasing when compared to other refrigeration displays available on the market, thanks to its contemporary finish and grill-less frontage. The manufacturer feels that as well as eliminating the need for ventilation grills at the front of the counter, dealers should also note that unit means the range now comprises eight different models in five different sizes, ranging from 600mm to 1,800mm.
Autonumis EcoChill bottle coolers
Autonumis is launching its third generation of the EcoChill bottle cooler range to the catering and hospitality industry this month. Starting with the launch of the standard size double unit, this will be followed by the single and the maxi double models towards the end of the year. The EcoChill models have been overhauled to incorporate a new refrigeration system comprising a newer technology compressor, lower energy evaporator and condenser fan motors and an uprated thermostat. Sales manager Peter Smedley said: "Other aspects of the coolers' design have not escaped scrutiny and the new models include better thermal insulation and improved energy-efficient sealed glass units built into the doors. By adding these advances in new technology we have been able to decrease the energy consumption on our EcoChill double door bottle cooler by more than 25% over the current production model. Other cabinet sizes will achieve similar savings." Manufactured in the UK all models are supplied with a black external finish as standard but with a choice of hinged or sliding doors. Options also include stainless steel frame doors, stainless steel solid doors or complete outer stainless-steel cabinets. Some of these latest advances will also be incorporated into the standard range of Popular bottle coolers to be launched alongside the new EcoChill models.
ISA Tornado refrigerator
The ISA Tornado is designed to be a flexible glass-fronted refrigerated cabinet which can be supplied as a single door fridge or freezer or as a double door combination of the two. Storing and displaying chilled and frozen products, it can be used to keep soft drinks and beer chilled, serve up snacks or display pastries and cakes at restaurants, cafes, corner shops and ice cream parlours. This Climate Class 4 cabinet is said to be attractive and practical. The glass door features a decompression valve for frequent openings and the display is enhanced by energy-efficient LED lighting. It's available in static or ventilated refrigeration versions – the ventilated versions (model RV) have five adjustable shelves and are fitted with adjustable side supports for grids. Extra grids and supports are available as an option. In the static versions (model RS) the six shelves are fixed. They act as evaporators and are painted with anti-corrosion treatment. The Tornado features 'customisable' LED panels to the sides and above the door, helping increase impulse sales. The range is available in three models: two single door versions, Tornado 40 and Tornado 50, and a double door version, the Tornado 100. The ecological foamed polyurethane insulation is HCFC and HFC free and is 60mm thick, which should ensure good temperature retention. The ISA brand is supplied by Taylor UK.