Refrigerator energy efficiency has been making headlines recently, with EU Commission quango Topten.eu reporting that some manufacturers are lagging behind in their energy labelling product declaration. Therefore, Catering Insight is giving refrigerator manufacturers a chance to be as transparent as possible and compare a like-for-like selection of one-door upright refrigerator models.
Electrolux Professional ecostoreHP Touch
Climate class: Heavy Duty (5)
Net volume: 503litres
Dimensions (w/d/h): 740mm/861mm/2,080mm
Energy efficiency class: A
Energy efficiency index: 24.36
Energy consumption: 350kWh/year
Electrolux calculated the energy consumption data for this model using its own Electrolux Professional Lab, which is accredited by IMQ and Intertek.
The manufacturer feels it has developed its ecostoreHP range to consume 65% less energy than standard cabinets. The series is supplied with a 'green gas' refrigerant, R290, which is said to result in lower running costs and a reduced impact on the environment.
To ensure distributors are aware of the efficiency qualities of Electrolux's refrigeration, it invites key distribution partners to take a first look at any newly-launched product, where there is an open forum to ask any questions relating to performance.
Steve Bowler, category manager for refrigeration at Electrolux Professional UK detailed: "Given energy efficiency can be interpreted in a variety of different ways, we ensure our product information – inclusive of energy label, climate class and both daily and annual running costs are freely available to view on our website. Our distribution partners also have access to our online Agelux system, which provides all relevant product data."
Foster Refrigerator EcoPro G2, EP700H
Climate class: 5
Net volume: 482litres
Dimensions (w/d/h): 700mm/820mm/2,080mm
Energy efficiency class: B
Energy efficiency index: 32.27
Energy consumption: 452kWh/year
According to Ewen Cairns, UK sales manager at Foster Refrigerator: "Foster invested over half a million pounds in our state of the art test facility to ensure our results are as accurate as possible as our products are put through rigorous testing, offering peace of mind for customers." He believes that Foster's most efficient technology includes the +stayclear condenser, which features an 'aerofoil tube' design to increase surface heat exchange, allowing greater airflow, reducing stress on the compressor and extending a refrigerator's life.
Cairns said: "Distributors and caterers should work with manufacturers that are dedicated to carrying out robust testing, meaning that the products have accurate grades attached to them, offering complete confidence from the start. We are transparent with all our customers and have product credentials readily available on our website for all products. We also encourage distributors to visit our leading test facility."
Story continues below
Advertisement
Gram Superior Plus K72
Climate class: 5 – Heavy duty
Net volume: 462litres
Dimensions (w/d/h): 720mm/905mm/2,100mm
Energy efficiency class: A
Energy efficiency index: 20.8
Energy consumption: 285kWh/year
Hoshizaki strives to generate continuous improvement when it comes to innovations, according to UK director of sales and chain accounts Simon Frost. "This could be in the form of energy efficiency, durability, effectiveness or even price. We compare our own products against market leading alternatives and in closely controlled test environments to understand more about the figures quoted."
He believes: "The Gram Superior Plus K72 represents one of our most innovative, environmentally friendly refrigerators ever. The outstanding consumption rate means the Superior Plus K72 achieves a Global Warming Potential of just 3 and top ranking of 'Class A' according to EU Legislation." The unit uses a naturally occurring gas called R600a as both a refrigerant and as a key component of the insulation.
Frost added: "We promote key stats and evident improvements across our range to distributors and end users. For example, the technical and design updates in the Superior Plus K72 mean it is 35% more energy efficient than its best-in-class Plus 600 (Generation 4.0) predecessor."
Liebherr GKPv 6590
Climate class: 5
Net volume: 465litres
Dimensions (w/d/h): 700mm/830mm/2,120mm
Energy efficiency class: A
Energy efficiency index: 24.4
Energy consumption: 336kWh/year
The measurement of this unit's energy consumption is to comply with EN 16825 and regulation 2015/1094/EU. Like all Liebherr's professional appliances, the GKPV 6590 refrigerator has had its energy output and energy efficiency parameters tested at the company's laboratories in Lienz, Austria.
Mark Cooke, commercial sales manager for Liebherr Foodservice GB believes that the unit is efficient due to its R290 hydrocarbon refrigerant, as well as its energy class and energy efficiency index ratings, which mean the electricity consumption of the appliance is claimed to cost €538 (£475) in 8 years.
He commented: "Liebherr ensures that distributors have access to all of our product portfolio via our website and via printed and digital data sheets. In addition we have our full portfolio available on CaterQuotes where all the relevant information can be accessed including more in-depth data sheets and brochures. We also visit distributors directly and discuss the energy efficiency advantages of Liebherr appliances, and invite distributors to our factory."
Blizzard HBP700
Climate class: 4
Net volume: 443litres
Dimensions (w/d/h): 705mm/900mm/2,133mm
Energy efficiency class: A
Energy efficiency index: 22.7
Energy consumption: 303kWh/year
Tested to EN16825:2016 standards by TUV Rheinland, the cabinet is fitted with EBM fan motors, an inverter compressor using hydrocarbon refrigerant, plus an LED light, and is constructed with 85mm cyclopentane insulation. It also utilises a Dixell controller with claimed energy efficient algorithms and has audible and visual high/low temperature and door opening alarms.
The firm recently appointed a technical and compliance manager to work with its manufacturers and factories to maintain quality and compliance and regulate all aspects of legislation, not just energy efficiency. All products supplied by Pentland Wholesale are advertised in its catalogue and online, with Dean Simpson, operations director, Pentland Wholesale, reporting: "All data is accurate and traceable through recognised testing facilities. Specifically in relation to energy efficiency, any product that falls into this category is clearly identified with an energy label and the ratings are included in the technical specifications."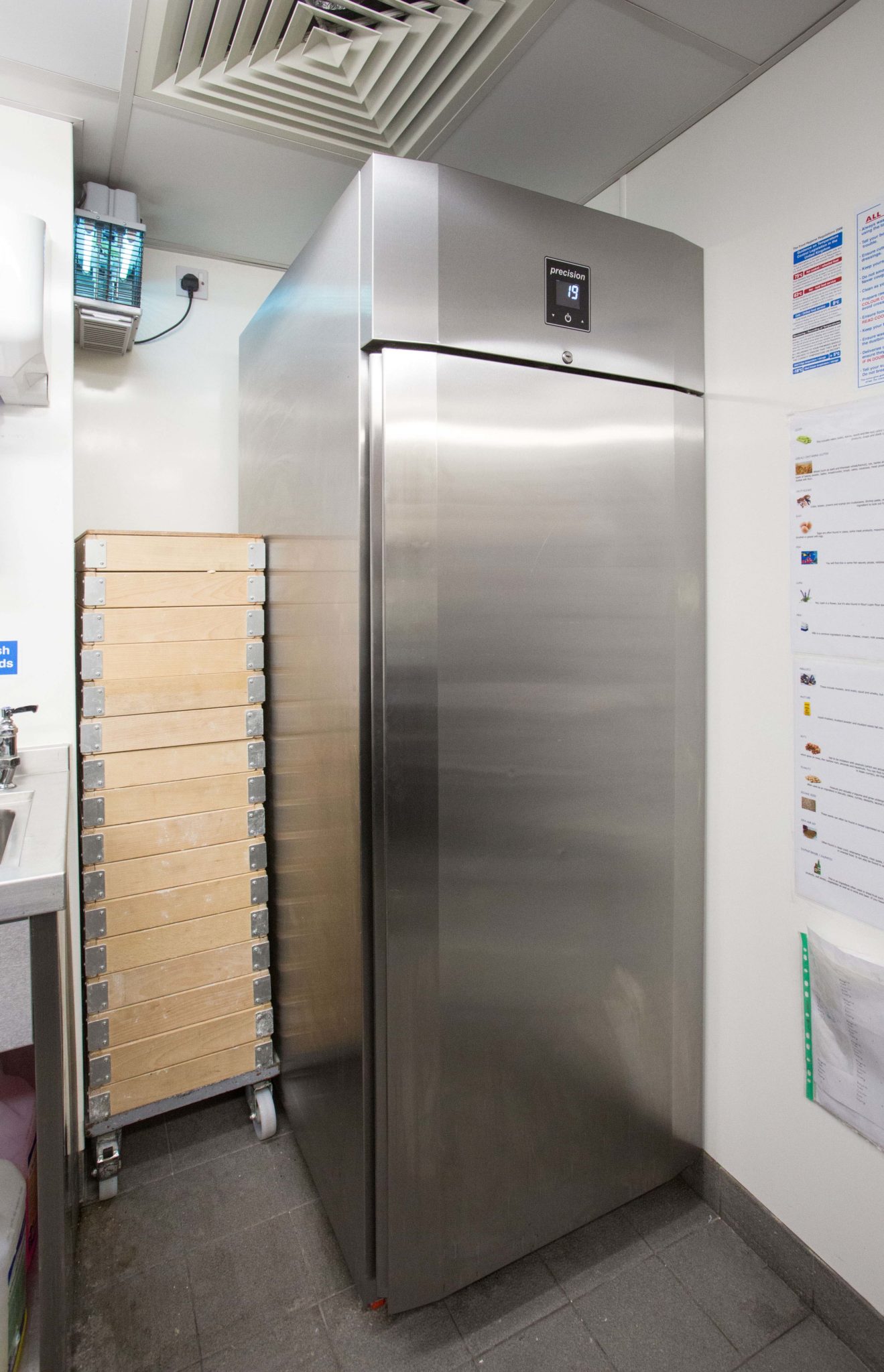 Precision MPT601 – gastronorm 2/1 single door top mount refrigerated cabinet
Climate class: Capable of working in 43°C ambient (Climate Class 5) but tested to Climate Class 4
Net volume: 454litres
Dimensions (w/d/h): 720mm/860mm/2,072mm
Energy efficiency class: B
Energy efficiency index: 32.87
Energy consumption: 456kWh
The MPT601 was tested to EN16825 Climate Class 4. According to Precision Refrigeration's MD, Nick Williams: "This large commercial fridge uses half as much energy as a 100W light bulb. Its low energy consumption is enhanced by a multitude of factors: 90mm insulation, R290 refrigerant, improved thermal break, interior air-flow and the latest energy efficient components."
All data including energy labels, fiches and spec sheets are available on the manufacturer's website, while Williams added: "We regularly meet with dealers, both at their offices and here in Thetford, where we host dealer days. Energy efficiency is one of the areas we will cover in these sessions."
True TGN-1R-1S
Climate class: 5
Net volume: 435litres
Dimensions (w/d/h): 729mm/858mm/2,079mm
Energy efficiency class: A
Energy efficiency index: 24.8
Energy consumption: 328kWh/year
The above figures are calculated as per EN16825, a testing standard which sets out requirements and test conditions to determine the energy and temperature performance of professional refrigerated storage cabinets.
Scott Jones, key account director at True Refrigeration detailed: "True is the only commercial refrigeration manufacturer in the UK to hold ISO 17025 accreditation from UKAS, a formal recognition of our competence to perform testing of refrigeration equipment to various standards, including those specified by Ecodesign. This accreditation allows us to uniquely self-certify our own equipment, but also test to 'verify' equipment from other manufacturers."
He added: "True's A-rated TGN-1R-1S is currently one of the most energy efficient 2/1 GN compatible single section upright refrigerators available on the market." True makes energy labels and product fiches available for all qualifying products, including on the product pages of its website, and its product spec sheets.
Jones underlined: "Our UKAS 17025 accredited test labs allow us to go the extra mile for our customers, testing products specifically to their requirements. The Ecodesign test, and by definition any set testing standard, gives a result output based on one set of parameters, but the environment within one real operating kitchen can be massively different from another. With our facilities, we work with customers to simulate real world in-store conditions, using real food products specified by them, and emulate exactly how the products will be used."
Valera Next A5 – 2/1GN storage refrigerator
Climate class: 5M1
Net volume: 464litres
Dimensions (w/d/h): 730mm/842mm/2,085mm
Energy efficiency class: A
Energy efficiency index: 24.9
Energy consumption: 341kWh/year
The refrigerator was tested according to standard EN16825:2016 and regulation 2015/1094. It achieved energy efficiency label A, the best of UE Regulation 2015/1094 with regard to the energy labelling of professional refrigerated storage cabinets.
Marketing and sales manager, Kurran Gadhvi, detailed: "Our products' literature, which is available for distributors, business operators and the public in general, includes information about product range efficiency for Valera and key suppliers like Jordao Cooling Systems. It is displayed on the units, catalogues, specification sheets and website.
"Additionally, and for a wider knowledge of our portfolio performance, we are finalising the process of submitting our information to the Top Ten platform for our new upright refrigerators and freezers, as well as storage counter refrigerators and freezers."
Drawing out efficiency

Adande feels its HCS3 R2 fridge only refrigerated drawer unit is highly efficient. Rated to climate class 4, energy efficiency class A+ and energy efficiency index 11.9, the appliance measures 1,100 (w) x 700 (d) x 1,267mm (h) for a three drawer (HCS R2) stack. Per drawer, the net volume is 86litres, so when the modular unit is stacked in a three drawer arrangement, the total capacity is 253litres.

Sales director Karl Hodgson underlined: "Ribbed grooves in the patented insulated drawer container allow the low-velocity cooling to gently circulate around the contents (unlike conventional fridges where significant capacity is lost as gaps must be left within the cabinet to allow airflow). Therefore, Adande optimises and utilises a large storage volume with no hot spots."

Each drawer consumes 239kWh/annum, which is equivalent to 717kWh/annum for three drawers. Hodgson added: "The HCS R2 (A+ Fridge) model is listed on the European Top 10, which is an official independent international programme that creates the benchmark for the most energy efficient products on the EU market. Currently Adande is the only manufacturer with an A+ rated cabinet in the professional storage counter refrigerators category."

He concluded: "Although we carried out EU labelling testing (self-certification) at Adande's state of the art testing rooms, we specifically went beyond the requirement to third party labs, not only to look at competitors' products, but to have absolute validation for the customer and garner their confidence."