Reaching 50 years in business is a major milestone for any company, and none more so than for Falkirk-based distributor James Scott & Sons Kitchen Equipment (JSSKE). The family firm officially has its golden anniversary on 27 January 2022 and in the run up to this auspicious occasion, the directors have been reminiscing about the achievements of the last five decades.
The dealer was founded in 1972 by the much-missed Jim Scott, who continued to helm the company right up to his sad passing in 2015. Diagnoses of heart problems (including a heart attack at just 45 years old, due to stress) and latterly Parkinson's disease made life more challenging for him, but he remained determined to lead the company to the end, even from his hospital bed.
In the wake of his loss, the business baton passed to his two sons, Stuart and Martin Scott. Stuart serves as the MD, while Martin is the chairman. Duties between them are roughly split by commercial and technical functions, with Stuart managing the sales and cash flow side of things while Martin oversees the company's fabrication facility and services drawings. Furthermore the third generation of Scotts making its way up the company, as Martin's oldest son Christopher is the project director, dealing with site management and coordinating all the services and installations.
Story continues below
Advertisement
Catering Insight caught up with Stuart, who has already spent 38 years at the company since leaving school, to see what the family legacy means to the dealer: "We continue to pride ourselves on living up to my father's values and what he taught us," he said. "We remain 'old school' – basically be good to your word and if we make a mistake we fix it. If you say you're going to do something then you do it. It keeps you in high regard and people come back, you can build up relationships with them. We've got a lot of great customers so we must be doing something right!"
To have such longevity, the company distinguishes itself by being the only distributor in Scotland capable of offering both full kitchen installations and its own-in house fabrications. Stuart underlined: "Other companies do projects but they don't manufacture their own stainless steel items, which we still do. I think that's a big plus for us, because we have total control over lead and manufacturing times, whereas if you buy from somebody else you're at their mercy."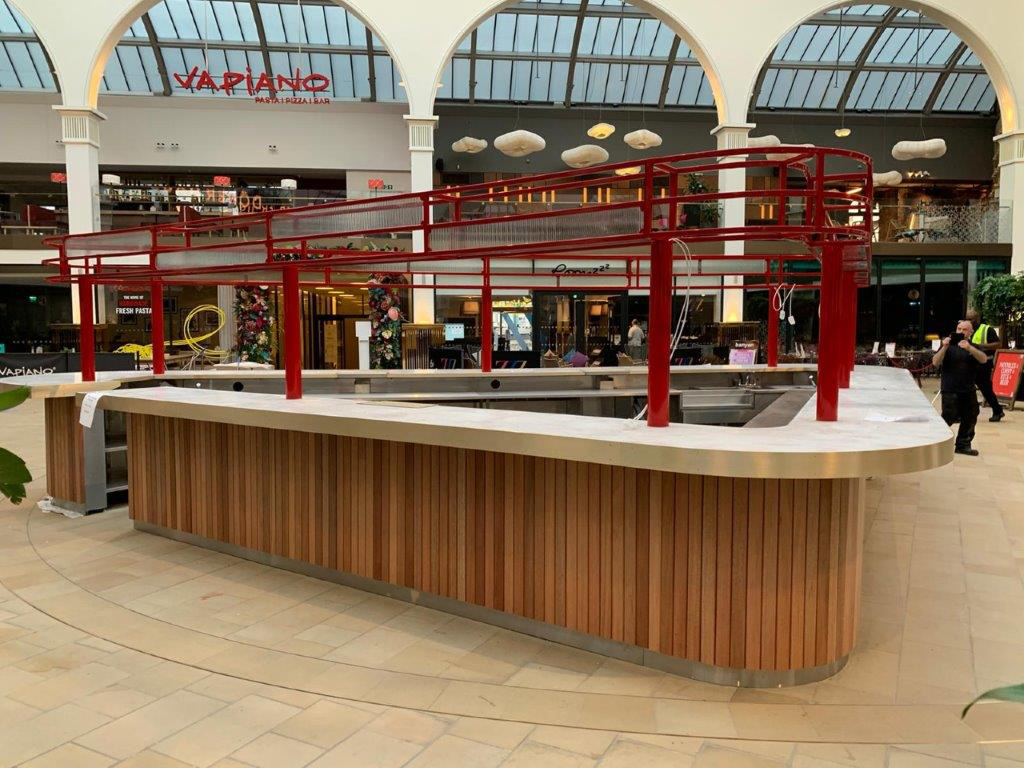 Items crafted in-house include counters, hot units and full carcasses and Corian worktops. But in light of the recent skyrocketing raw material costs, how is James Scott & Sons coping? "We work on consignment stock for the sheet steel, so I buy 6 months in advance – I had 6 months' worth sitting on the floor when the prices started to go up," Stuart revealed. "I've ordered for another 6 months before it goes too high, but we're not doing too badly."
The firm is anticipating further supply chain challenges too, and accordingly, Stuart has stockpiled items that the distributor doesn't usually, such as mixers. Currently when the JSSKE team quotes for a project, they are occasionally having to revise the figure upwards throughout the process, where equipment costs have increased along the way, or when certain appliances are unavailable and so alternatives have to be sourced. Stuart reported one of the biggest bottlenecks is fire suppression systems, with 20 on order right now that the manufacturer is unable to fulfil. "Venues can't open if you can't put a fire suppression system in, because they won't have the insurance cover," he said.
At the moment the distributor is sitting on an orderbook of a healthy £3m, with an aim of turning over £5m. Stuart analysed: "If you bring in more than £5m then you actually make less money, because you are working harder and spending more, so you have to get up to about £7m before you get the benefits. Around £5m is manageable from the top and we don't get too big."
As for the current situation, he reported: "Our performance is not too bad – we've got approximately 65% of our turnover still to be secured on our orderbook. Our estimating team is quite busy, so the future looks good. The problem is getting the margin, because what we are selling now was quoted a while ago, and prices are going up.
"We are requoting, but for schemes where we're subcontracting for the building industry, around 80% of our projects, they're not budging on price. Then we have to take a commercial decision of if we want to run with that price or let somebody else do it. That's quite difficult."
Being paid on time is a perennial challenge for the dealer, but Stuart emphasised that the top blue chip contractors the firm often works with pay pretty fairly. Furthermore, he reported that the cash flow situation isn't too bad, with the company having its own internal staff chasing payments if necessary, and rarely requiring an external legal firm.
To both celebrate the big anniversary and look to the future, JSSKE is updating its branding. Stuart explained: "The rebrand is to make the image more modern and we have changed from blue to silver to replicate stainless steel and highlight that we still have the manufacturing facility."
In the nearly four decades that Stuart has been with the company, he has seen increasing technological advances in the production side of things, moving from traditional manual skills to CNC machinery. But for kitchens themselves, he evaluated: "There are newer, fancier products that are computer controlled, and changes in technology, but the principles are still the same: store, cook, eat and wash the dishes!" He also noted that electric and induction cooking ranges are more prevalent now, as operators continue to ramp up their sustainability focuses.
In terms of typical customer segments, the dealer has traditionally worked in the public sector, but is increasingly supplementing this with hotels, care homes, garden centres and visitor attractions over the last few years. "But we are still primarily a public sector style business, because that's where much of the money is spent in Scotland," underlined Stuart. The current mix includes a strong stream of care homes, schools and even a women's prison in Stirling next year.
Plus for the last 4-5 years, JSSKE has offered PVC cladding as a bolt-on to its kitchen package. "Every kitchen has PVC in the wall so that's something we are actively doing as an add-on for our clients," Stuart detailed. "We've also done PVC jobs over £100k on sites including swimming pools. Contractors like it because they can park that away as one less sub-contractor to work with."
Another division that came into being around the same time is Kitchen Fire & Hygiene Solutions. The firm has built that up to turn over around £500k annually. The dealer has also bought a share in a local glazing business called Cracking Glass in the last 6 months so that it can offer glasswork and mirrors. It is currently trying to bolster that trade, with Stuart saying: "Cracking Glass was started by a friend of mine 10 years ago. It's still his company but we help out – we've got routes to market through our client base with the contracting industry, so we can always get a chance to tender. Glass works often involve stainless steel balustrades and things like that, so there's still a link to the stainless steel in what we do."
So is JSSKE looking at more buy-ins or acquisitions? "I think we're probably ok where we are, we don't want to get too stretched," responded Stuart. "We're at the sort of size where we know what's happening from the top to the bottom. If you get too big then you're going to start missing things and you're relying on other people. We've got a very low turnover of staff, there are people who've been here for 30-40 years, so we must be doing something right. The ethos is that we are a family business – sometimes we've had several generations of families getting jobs here."
Over the years the distributor's team has numbered around 40 people, with the current staff roster just below that total. This includes three personnel in the drawing office, three in customer services, a further trio in estimating and sales, three more in administration and accounts, and about 20 involved in production and installation.
JSSKE made use of the furlough scheme to survive the worst of the pandemic's ravages, shutting for 3 months until June 2020 and then building up staff hours as demand strengthened. According to Stuart: "Without the furlough it would have been a different scenario, but we have been luckier than some businesses and we are working at full tilt."
On the supply partnership side of things, the distributor favours nearby Falcon Foodservice Equipment for prime cooking. "If anybody asks us for cooking equipment we'll always lead with Falcon, we're very loyal," said Stuart. Other brands the dealer works with include Lincat and Middleby UK, Rational for combi ovens; Williams or Foster for refrigeration; Counterline, CED or Moffat for refrigerated displays; and Smeg for single tank dishwashers with Meiko or Hobart for larger systems.
So what attributes does JSSKE seek in its partners? "We look for them to try and be fair and supportive, to help us out with a wee bit extra, as well as providing back-up and making sure there's good service for the end user," Stuart revealed, summing up: "It's about quality products and doing the warranty work for us."
The company buys all kit with 12 months minimum parts and labour warranty from the manufacturer. While JSSKE doesn't employ service engineers directly, it can offer regular maintenance contracts for anything it supplies, as it subcontracts to a network of servicing companies across Scotland.
Most revenue comes from projects however, with Stuart estimating less than 5% resulting from one-off equipment sales, which are usually only repeat customers looking to replace appliances. Geographically, 95% of work is located in Scotland, anywhere from Shetland to the borders, and even reaching to Orkney, where this month the firm will be outfitting a care home. Anything that is south of the border is usually from companies that originate in Scotland.
When asked what JSSKE's unique selling points are, Stuart responded: "We visit customers' premises and undertake a site survey, check access, make sure the power is in place – we won't just come along and drop a box off at their back door and run away. Those are the benefits of going through somebody like ourselves, but obviously that carries a premium."
Recent investments include bolstering the firm's BIM software and carrying out further BIM training for the drawing office with a CAD company, especially important as BIM is becoming more prevalent on the public sector projects the dealer is taking on. Furthermore, JSSKE has created a new drawing office manager position this year.
Looking ahead, the distributor is considering joining up to Scotland Excel, a public procurement non-profit organisation for the local government sector. Stuart explained: "You fill in a form, put things at certain prices and it stops them necessarily going out to tender, because the prices have been pre-vetted to get on the list. So if a council wants to buy 10 ovens they can say they know the price from that sector contractor."
The foodservice equipment industry in Scotland seems to be holding firm, with Stuart reporting: "There was a spell a couple of months ago we thought the levels would reduce, but enquiries actually picked up. Estimating is busy and those are your future orders – if you've got no enquiries then nothing's going to happen 6 months down the line. So I think for the next year it's not too bad, providing we don't get another lockdown."
Over the coming years, Stuart believes: "If we keep ploughing our furrow and maintaining the same standards that the company's known for, that's probably the best way forward. Our manufacturers and clients will determine which route products, equipment and designs go."
He summed up: "We are quite proud to get to 50 years – there are not many in the sector that do that. But we also need to look forward and try and change as technology changes. We hope to be here for another 50 years, so we'll see what happens!"
Kickstarting new talent
James Scott & Sons Kitchen Equipment (JSSKE) is focusing on developing new young talent, by signing up to the government's Kickstart Scheme, which delivers funding for employers offering new job roles for 16-24 year-olds who receive Universal Credit. The programme is aimed at preventing young people who are not currently working from facing long term unemployment.
The distributor has applied to welcome four staff members for 6 months of training, and if they succeed during this probationary period, MD Stuart Scott revealed there will be vacancies for them at the end of that term.
This is not the first time the firm has aided local youngsters, as for the last few years it has provided regular work experience placements for school-leavers to give them life skills such as working the tools and getting used to keeping work hours. This usually involves two afternoons a week for 3 months. Some of them have managed to get full-time jobs off the back of that, with JSSKE currently welcoming two more teens in its factory.
According to Stuart: "This puts us in good stead when we do local authority work, that we're bringing kids on and giving them an opportunity. That goes under KPIs when you're working for various local authorities – a lot of contractors ask you to do things for community benefit. We put a bit back locally and it doesn't cost us much."