It's coming up to the fourth anniversary of the Gloucester-based Space Group's acquisition by industry supply giant, Nisbets, and in that time the kitchen design and build firm has seen rapid growth and business transformation.
Space MD Ian Bidmead told Catering Insight: "It's been a really good partnership. We were talking to Nisbets a year before they acquired us and all of the promises, reassurance and commitments they gave in that period they absolutely followed through with.
"They always saw Space as being a different business to Nisbets, they recognised that our projects-based contracting model is different. Right from the start they said they are not going to try and integrate it into the wider Nisbets business, they'll keep it a separate entity and add value where they can."
Story continues below
Advertisement
And that value has come in several strands. Firstly the scale of Nisbets' nationwide sales force has meant that the project opportunities this national team comes across are fed back to Space. "This has helped us get into new areas and continue to grow," explained Bidmead. Conversely, the project house can pass back any light equipment sales opportunities to its Bristol-headquartered parent, as Space generally doesn't get involved in that side of appliance supply.
The distributor's financial performance has been flying high, with revenue virtually doubling within 5 years and the firm delivering record profitable growth in a tough market, which is another element that Bidmead cites Nisbets as being a key contributor to. "We had a really good year in 2019, growing our top line, bottom line and margins.
"We've also looked in other growing sectors – you've got to keep moving in this market. The good thing about still retaining that level of independence is that we can still be agile in spotting which sectors we think are worth investing our marketing and sales efforts in."
Historically, Space's core end user markets have been managed pubs, contract caterers and garden centres. It has added more strings to its bow over recent years though, especially with forays into the marine sector, outfitting its first cruise ship last year, as well as continuing to work on a number of ferry projects. According to Bidmead: "The marine sector likes to deal with companies that have a fabrication manufacturing capability, as we have with Holmes Catering Equipment, so it works really well and we're a good fit.
"Too often it's easy to be good at something but then find customers that don't really want that value – it has to dovetail."
He feels that turnkey projects are a particular strength, because as well as being a design and build company at heart and having the Holmes manufacturing offering, Space also has interiors and furniture arms, so it can deliver everything from individual equipment to wall, floor and ceiling outfits.
The interiors division began as a small team at the end of 2013. Bidmead detailed: "It is now a nice standalone business for us and feeds on the back of catering projects, but also then gets introduced to separate projects that are not catering related. Some customers want to have fewer suppliers to deal with, and as a complete solution provider we then have total control over delivering a project, so it has a real client benefit. It's a more efficient business model to carry out a full turnkey project."
In the process of increasing its scale, Space has been careful to ensure it maintains quality. Obtaining accreditations is an ongoing focus for the business. "We are constantly looking at what we need to have for the sectors that we're looking into," said Bidmead. "We have ISO 9001 quality management certification and it's not a paid exercise, we absolutely use it to run our business.
"Our ISO 14001 environmental management accreditation makes it an easier process to fill out pre-qualification questionnaires for projects too.
"As we've grown from being a regionally-managed business to a national one, it's very easy to lose control of process quality, but our accreditations give us consistency of execution. Therefore it becomes a scalable business, whereas you often see lifestyle-type companies reach a limit because they are so dependent on one owner."
The cornucopia of certifications Space has also includes CHAS accreditation, Safe Contractor approved, Builders profile, CEDA, CEDA Safe, Constructionline, CESA and SafePQQ.
The consistency is a boon when the company's projects have increasingly come in from further afield. "When I joined the business 8 years ago, we had one big customer that was probably half of our business, then we had lots of independent projects that were mainly within a 70-mile radius of Gloucester," recalled Bidmead. "Now on the back of Nisbets we have that national scale, so we have got people all over the country."
This has driven headcount up to around 100 for the whole group, half of which are within Space Catering Equipment itself. However, staff were recently hit by the passing of key account director Malcolm Ball, who tragically lost his battle against acute myeloid leukaemia last year. Bidmead paid tribute, saying: "His loss has left a big hole because he was such a big part of our business."
Nevertheless, the team were determined to create something positive out of such a sad event, and they fundraised for the Sue Ryder Leckhampton Court Hospice during a memorial walk in the Cotswolds, held for Malcolm in lieu of a funeral. Bidmead reported that to date, Space has raised an incredible £14,000 on the back of that for the charity.
The company looks after its staff well, as evidenced by a core group of employees remaining with Space since it was established 20 years ago. Bidmead detailed: "We've still got original project managers, designers and demonstrators, and we've also got a lot of new staff, so it's a nice mix of experience and youth, people who really want to learn.
"We really want to encourage that so we've put staff through a lot of training. Another Nisbets benefit is that we can tap into some of their training programmes too. It's an ongoing focus for any good business – I don't think you could survive if you're not invested in your staff."
Areas of focus for Space's training include health and safety, construction, design and management and electrical. "Even if staff aren't necessarily onsite with a project, they still need to be aware of the impact of things like ordering and quoting, because projects are all about the teams."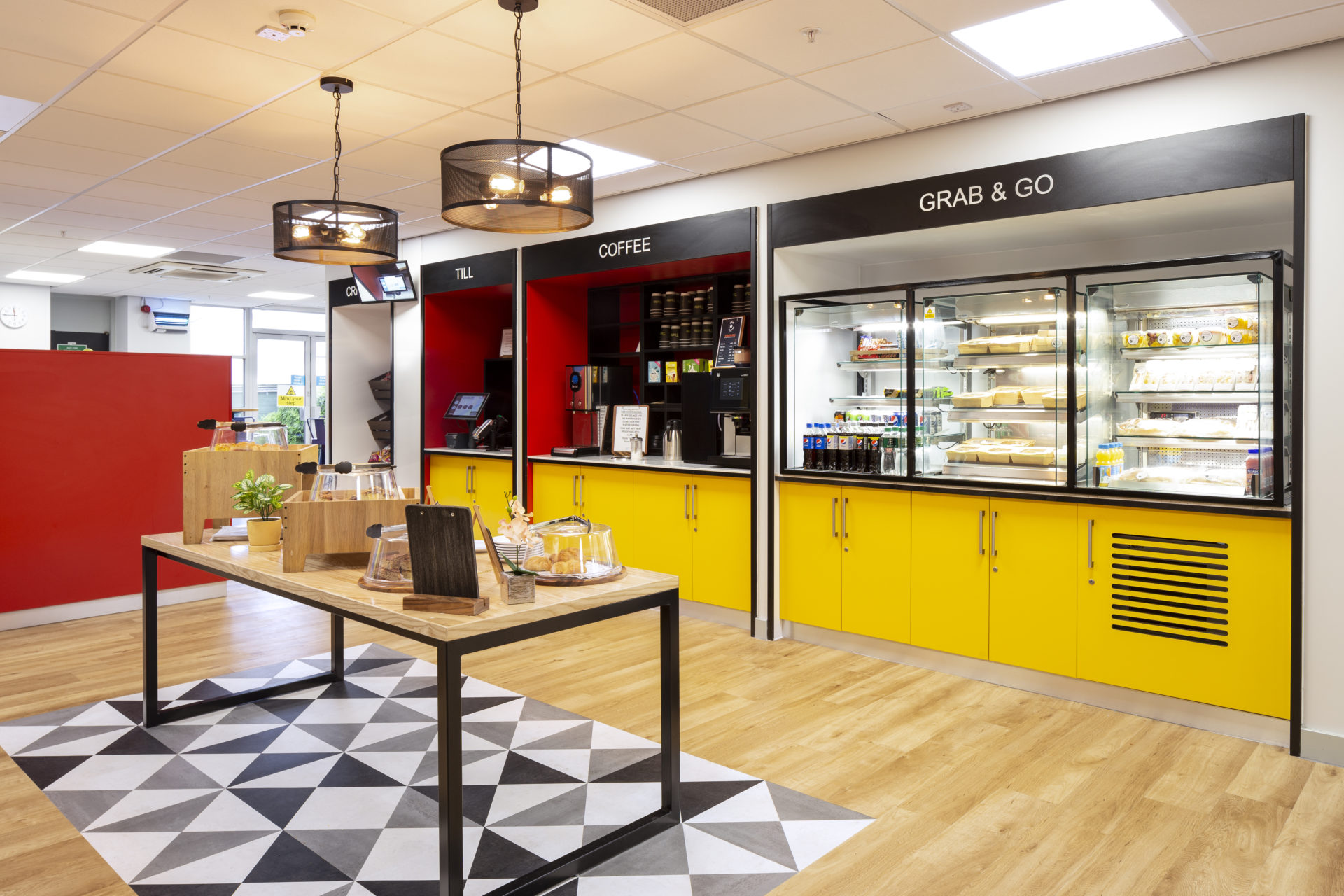 And to give each project a boutique feel, Space ensures that it builds individual teams around its clients. "We want to ensure we still keep the culture of Space as a family business and focused on the customer," said Bidmead. "75% of our business is with multi-site clients and often they are national accounts. But every customer will have the same project manager and designer on each site they deal with, so they get the benefits of dealing with a small business and a really personal service, but with the scale that we've got behind us – they get the best of both worlds."
Customer service now extends to maintenance, with Space introducing a servicing arm a couple of years ago. This offers warranty coverage, planned preventative maintenance and reactive service. While the firm doesn't directly employ engineers, it does have a relationship with an experienced national network of around 120. It does have an in-house helpdesk to field and assign calls, however.
According to Bidmead: "It's still relatively small, but it's growing and we have good national coverage and response rates. It's something certain customers want – one point of contact for the whole catering equipment provision."
Another of Space's focuses is being a carbon neutral company and sustainability in general. The distributor was a founder member of the Sustainable Restaurant Association, and Bidmead has seen renewed interest in the topic from operators. "Over the last 12-18 months, sustainability's profile has exploded in the market. It goes in phases – when it was really tough in the sector we found that customers tended to focus more on acquisition cost than life cost, but they are now more focused on energy consumption and other factors."
He cited pub groups and garden centres as sectors which typically have a long-term focus and are particularly interested in making their kitchens as sustainable as possible.
Other trends the firm sees as making a market impact at the moment include smaller footprint kitchens and theatre cooking. Bidmead stated: "Hotel chains for instance are looking at reclaiming space from the kitchen to be able to have an extra bedroom or more front of house space. So it's about using multifunctional equipment that can reduce that space.
"Plus with theatre cooking, every contract caterer site wants more visibility, so that's been an ongoing trend for a number of years.
"And on the interiors side, we see that the fashion cycle is short – there's a lot of churn. For example, in the ferry sector over the last 5-6 years, the operators want something that's really current. The consumers using ferries are the same as those on the high street and they are used to all the latest trends there."
When quizzed about recent challenges, he reported that Space saw a slowdown in operator investment within a few months of the Brexit vote. "We had some customers that were opening 20 newbuilds a year scale that down to a handful. The casual dining chain bubble burst as well, and we had some exposure to that. It's been a challenge but that reinforces the message that you've got to constantly re-evaluate where you're operating.
"Margins get talked about a lot; I always think they are a function of innovation and value. We've actually seen our margins improve because we are able to add more value to clients in different ways. We think customers still value innovation, and if it's the right innovation to help their business, then you are still able to retain those margins, but you cannot just expect it – you have to earn it."
Looking ahead, Bidmead revealed: "We've got a pretty clear strategy for the business, so we'll continue to take the approach of focusing on the sectors that work for us, but constantly re-evaluating what those sectors are. We still have lots of customers that only buy one service from us, so we are looking at growing the turnkey element of what we do and being a one-stop-shop.
"Days when customers had lots of people in-house for project resource have gone, they've all cut back. So they want to lean on their supply chain to deliver that, so that's where I think we can continue to add value."
Investments and technology
Space Group has ensured it is at the cutting edge of kitchen design technology, offering 3D visuals, panoramic virtual views, CGI walkthroughs and simulations to show operators a photo-real and immersive vision of their prospective new project.
MD Ian Bidmead explained: "We are always making investments in our software capability for design, including BIM and how we present visuals."
The distributor now issues a QR code for its clients to scan in with a smartphone, and it can offer 3D goggles to slot the phone into for a virtual reality walkthrough of a kitchen.
According to Bidmead: "That has a much bigger impact than showing several views on an A1 board. It's how we've won a lot of our really big projects. Then when those kitchens help clients like contract caterers win orders with their customers, they return to us and it means we can retain a healthy margin, which we can invest back into the business and keep on growing."
All in all, the company has invested over £50,000 in upgrading leading edge software to ensure it stays at the forefront of flow simulation, visualisation, VR as well as a major upgrade to its CRM system. Next up it is analysing whether augmented reality, which blends real wold views with computer-created designs, could be of benefit too.
No place like Holmes
Fabricator, Holmes Catering Equipment, has seen a huge turnaround in fortunes since the Space Group took ownership in 2014. Space MD Ian Bidmead explained: "We bought Holmes when it was probably a few days from being liquidated and it was in real trouble.
"We recognised that it was fundamentally a good business, with great employees, but it had had a bit of bad luck and management had made a few bad decisions. It's easy for businesses of that size to do that."
He recalled: "It was a tough time during that first year, but once we got through that and put the right team in place, it rebuilt confidence and trust with its customers and it was supplying Space itself. It hasn't looked back since."
The fabricator's customer base is now much wider than previously, with its traditional retail and hotel chain clientele supplemented by Space and Nisbets custom, as well as returning clients helping to bolster its coffers.
Likewise, staff numbers have increased, from about 28 at the time of its buyout to around 45 currently.
Bidmead concluded: "It's great to have a British manufacturer doing so well. It would have been an easy business just to have been a footnote in the history of the catering equipment industry, but it's not, it's a real success."