Refrigerated storage is such a broad category of a kitchen or catering environment that it never does any harm to be reminded of the kind of solutions currently available in the market. Here, in part one of two, we pick out a range of refrigerated products in the UK right now.
Foster EcoPro G2
Foster's EcoPro G2 range has been designed from the ground up to ensure that foodstuffs are stored at the optimal condition to ensure food stays fresher for longer, even in the busiest of kitchen environments, maximising the profitability of the chef's most precious resources: the raw ingredients that are subsequently transformed into culinary masterpieces. In addition, the refrigeration system design has been refined to minimise the environmental impact, be it from the refrigerant used, to the development of +stayclear condenser technologies that maximise cooling performance whilst offering significant reductions in maintenance requirement and energy consumption – not just on day one but throughout product life cycle. The condenser's role is to remove heat from the fridge, and in busy kitchens it gets blocked up by grease or dust, requiring the condenser to be repeatedly cleaned. Foster's innovative aerofoil tube technology dramatically reduces blockages and the build-up of dirt, keeping the condenser clean.
Story continues below
Advertisement
Did you know?
Using the very latest in design capability, Foster developed the use of Computational Fluid Dynamics (CFD), most often seen used in high tech driven industries such as Formula 1, to model the cooling effects within the cabinet to an accuracy unobtainable using traditional methods. This provides greater understanding of what actually occurs behind the closed door of the fridge, ensuring temperature uniformity, all while realising optimum energy efficiency.

Hoshizaki Eco Midi KG 60 CCG
A display refrigerator must be visually impressive if an operator wishes to entice customers to try what is on display, hence why stylish design and functionality should be a top priority with display cabinets. Hoshizaki's Eco Midi KG 60 CCG is a great example of a model which prioritises these two requirements thanks to the inclusion of distinctive, easy-to-clean aluminum profiles, serving to impart strength and enhance appearance. The unit is ideally suited for both front and back of house foodservice applications, as well as use in leisure and retail venues. In order to go the extra mile to satisfy the requirements of dealers, Hoshizaki has recently launched an online partner portal for dealers. Jam-packed with technical files such as CAD drawings, product images and documentation, the partner portal allows dealers to access Hoshizaki's library of information through a convenient online format.
Did you know?
The control panel of Hoshizaki's Eco Midi 60, which is cleverly concealed to protect against splashing water, allows operators to easily adjust aspects such as temperature and lighting. This means that operators are able to tailor their ECO Midi unit to the specific items they are displaying, whether it's beverages, sandwiches, snacks or more.

Electrolux Professional ecostoreHP Premium Refrigerated Counter
The design of the ecostoreHP Premium Refrigerated Counter is centred on three pillars: performance, versatility, and efficiency, which combine to position it as a unique refrigeration product. Its performance can be broken into two main themes: capacity, and its ability to keep contents cold. The ecostoreHP Premium Refrigerated Counter has a larger capacity than equivalent counters on the market, boasting 245 litres of storage from a footprint of just over 1m2. Operators can be assured of the ongoing freshness of the contents owing to a climate class rating of 5, meaning optimal preservation and performance even in heavy-duty 40°C kitchens. The unit is also extremely versatile, due to the extensive levels of customisation available to users. Any combination of drawers and doors can be chosen, as can the position of the compressor unit.
Did you know?
Electrolux Professional's ecostoreHP Premium Refrigerated Counter benefits from a raft of advanced technology to ensure it delivers the performance required for a busy catering operation. Optiflow, for example, is an intelligent air circulation system which maintains a constant interior temperature no matter how many times the door gets opened. It ensures the ecostore PremiumHP achieves optimal food preservation by creating a microclimate within the unit's compartments.
IMC Ventus bottle coolers
With over 150 customisation options available from size and style to shelving, interior lighting and handles, Ventus bottle coolers can be configured in thousands of ways and tailored to suit any bar environment. Interior customisation is a key focus for the brand, which is part of the Middleby Group. It offers different shelving options, including wire racks and flat shelves, to suit the type of beverages on offer. LED lighting is another element that can be tailored to complement the style of the establishment. Doors are available frameless, glazed or solid, in stainless steel and black finishes. Full front doors and fixed-point doors allow bars to add a custom door so that they blend seamlessly with interior design. Ventus bottle coolers can be purchased in a range of heights, including 800mm, 850mm and 900mm.
Did you know?
All Ventus bottle coolers feature the company's unique energy efficient EcoSmart controller. This can reduce the electricity used by up to 23%. The controller is activated at the touch of a button and works by shutting off key electrical items including the compressor, lights and fans. Only a small feed of electricity is drawn to the actual controller and two sensors. When the sensors measure that the temperature has risen to a set point, they will momentarily switch on the compressor and a fan but no other ancillary electrical items, to bring down the cabinet temperature. This is generally many hours after the unit has been put into EcoSmart mode, thanks to the insulation and glass used to keep the thermal mass of the bottles cooler for longer.
Liebherr GKv 5790 Universal Commercial Service Cabinet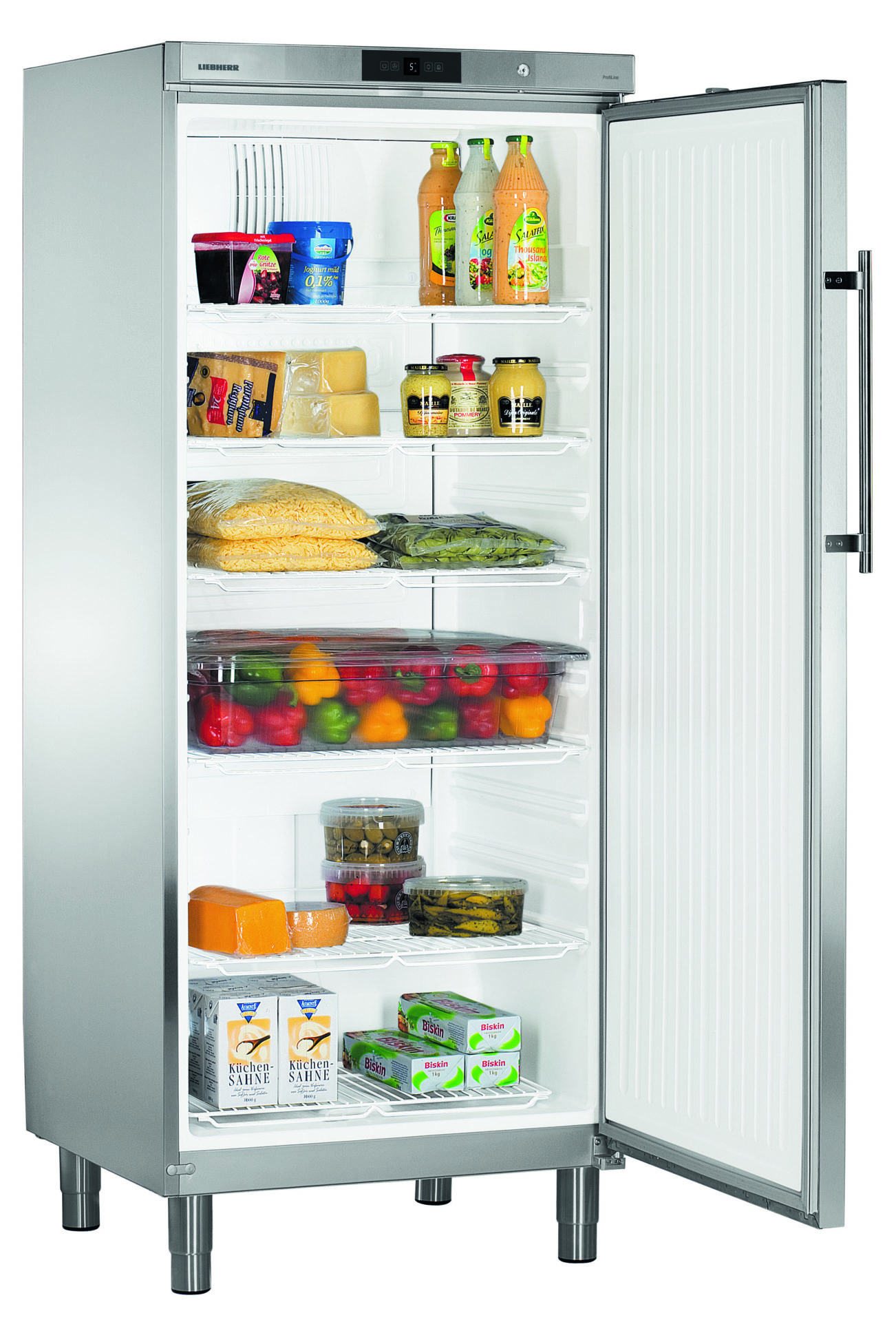 Liebherr's GKv 5790 forced air refrigerator cabinet has several special features. Its wide temperature range of -2°C to +15°C is just one that makes it stand out and allows it to deliver optimum performance in a range of settings and challenging temperature environments in foodservice and hospitality. Operators should note that this, and the cabinet's two humidity settings are invaluable for maintaining the integrity, freshness, and food safety of their investment in stock. The GKv 5790 also has a lockable, self-closing door and integrated temperature alarm to ensure food safety and quality is maintained in the busiest of professional kitchens. Ergonomic design with multiple shelf configurations, castors with the option of height-adjustable legs and cleaning drain add to the appeal of this Liebherr refrigerator in a variety of settings and different sectors where food and drink needs to be reliably refrigerated.
Did you know?
As with all Liebherr's commercial refrigeration and freezing appliances, the GKv 5790 benefits from the global group's dedication to technological enhancements and testing at its advanced R&D department in Lienz, Austria. As standard, this cabinet features an advanced, but simple-to-use, controller (with membrane cover) with external digital display and visual and acoustic temperature warnings.