Pershore-based distributor, Sprint Group, has recorded steady results for its 2019-2020 financial year, despite the coronavirus disruption towards the end of the period.
For the 12 months to 30 April 2020, turnover grew by 2%, from £13.4m in 2018-19 to £13.7m. However, operating profit slid by 48% from £0.6m to £0.3m.
In the latest annual report, now publicly available from Companies House, director Luke Ryan wrote that the original growth forecast for the company's financial year was 8.3%, however, the pandemic impact drove the growth rate down.
Story continues below
Advertisement
But with Simon Carpmael joining the firm as MD on 6 April 2020, this enabled the board and senior management team to quickly formulate and implement a Covid-19 recovery plan. Ryan detailed that: "Prudent cash management, a focus on nurturing key customers and reducing inputs cost secured the short term."
He added: "A cost down restructure, revised strategy and focus on operational efficiency will now ensure that the business model is 'fit for the future'. This will provide a base for sustainable, profitable growth in the medium to long term."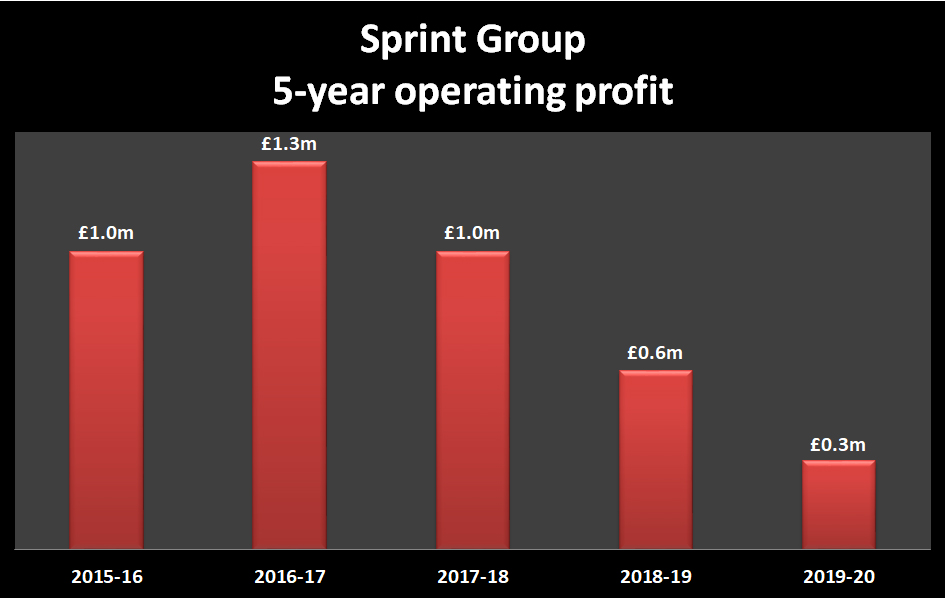 Carpmael himself told Catering Insight: "We are very pleased with Sprint's 2019/20 results. The last 5 weeks of our financial year were significantly impacted by the first lockdown but we're delighted to report that our annual turnover grew vs the prior year. This was a great result given the circumstances.
"The group saw a reduction in profitability but net profit remained healthy. Key to this performance were a loyal, stable customer base, a strong project pipeline and most of all – a fantastic team."
He analysed: "We quickly adapted to the new challenges. We revised our strategy, focused on operational efficiency and set a new budget. Despite the current operating environment remaining tough, we are performing well against our 2020/21 plan.
"Like everyone in our industry, we are now looking forward to when the catering and hospitality sectors can spring back into life – hopefully in the next couple of months."