*Up 1*
A more than solid set of financial results sees Pershore-headquartered Sprint Group rise a place in this year's Power Players rankings, despite the coronavirus disruption towards the end of the period.
For the 12 months to 30 April 2020, turnover grew by 2%, from £13.4m in 2018-19 to £13.7m. However, operating profit slid by 48% from £584k to £304k.
Story continues below
Advertisement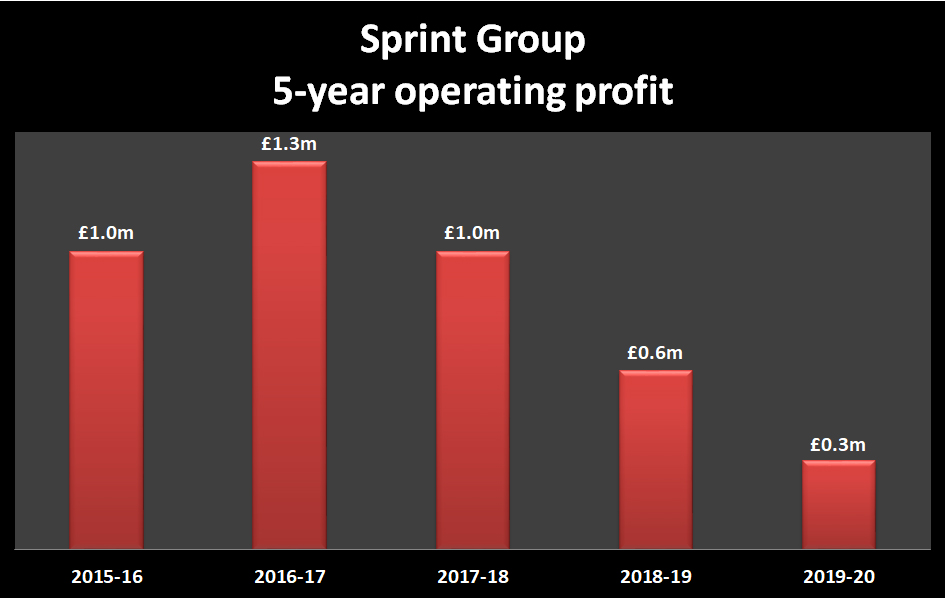 Simon Carpmael came onboard as MD just at the end of that financial year – and at the start of the pandemic. He reflected: "There are so many words that can be used to describe the last 12 months. It's been interesting, challenging, exciting and daunting in equal measures. The first lockdown was announced a few days before I joined Sprint; we quickly
convened as a senior team and started planning for various scenarios.
"My task was definitely made easier by having the unwavering support of Ross and Luke Ryan (Sprint's owners) and a committed, professional team managing the 'day to day'. It's been a long, hard slog with lots of twists and turns – as it has for the whole industry – but we're pleased with our performance. We're in a stronger position now than we were 12 months ago and we're proud of what we have achieved."
Analysing the effects on the business, he said: "Like most of our industry we often operate at 100mph but the last 12 months has really taught us the importance of regular, clear communication. As such we now invest even more time in ensuring that the whole company is kept up to date with what's happening. Early in the year we shared our vision, strategy and long-term plans with everyone – from the staff in the office to our engineers in the field. We followed this up with regular update sessions – either in person, on Zoom or via email. All of this, along with a number of other engagement activities, has helped create a much stronger team spirit as we move into this next stage of our journey."
With regards to supporting Sprint's operator customers through these challenging times, Carpmael added: "We ensured our back office team were able to work remotely and provided our field-based team with all of the necessary PPE and training. This meant that we could help our customers, particularly those in healthcare or offering takeaway food, to remain operational. Our finance team worked closely with their customer counterparts, successfully managing our respective cash flows. Our projects team participated in lots of virtual client meetings to ensure that they were ready to 'hit the ground running' as and when each restriction was eased. We even managed to find time to do a little bit of charity work!"
Supplier shout-outs
According to Sprint MD, Simon Carpmael, the distributor's supplier relationships have remained strong throughout the coronavirus period: "We've 'all been in this together' and suppliers have been keen to help wherever possible. We can't thank them enough – there are too many to name in person, but they all know who they are. Like most businesses we have pivoted and developed opportunities in new sectors during this period. That's meant we've occasionally had to talk to different suppliers – something we will do more as we move forwards."