*Down 2*
While Chester-headquartered kitchen design house C&C Catering Equipment has slipped a couple of places in this year's Power Players, considering its financial year encompasses the maelstrom of the beginning of the pandemic, as well as the end of the Brexit transition period, the company has performed admirably.
In the 12 months to 30 April 2020 turnover was impacted by 31%, accruing £15.1m compared to the previous year's record of £21.9m, generated between its kitchen design house and subsidiary companies C&C Catering Engineers and C&C Catering Fabrications. Likewise, operating profit was cut by 32%, reaching £827k in 2019-20, as against the prior year's £1.2m.
Story continues below
Advertisement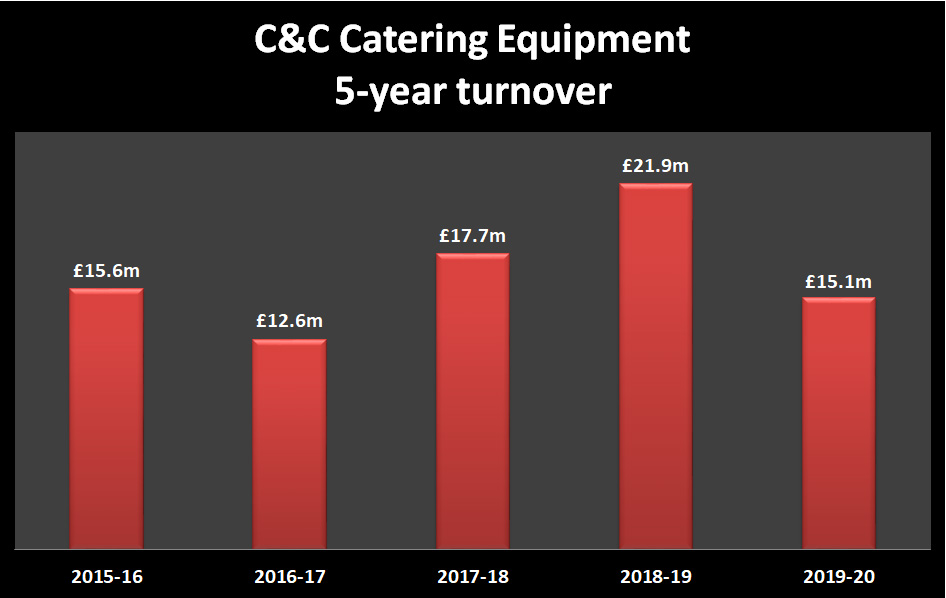 MD Peter Kitchin summed up: "We are delighted with the results as sent to Companies House, considering we had all the uncertainty with Brexit, then the election, and after that could see marked improvements in January and February
2020, then just as we thought all was well – Covid-19 struck in March. So with 2 months of Covid 19 affecting us in the financial year, plus the other 'issues' we and others faced, we feel what we have achieved is excellent under these circumstances."
He revealed that he actually enjoyed steering the C&C ship through these stormy waters, saying: "It was difficult at the start for us and everyone I'm sure, but we soon got into the swing of working a different way. I have a great team and everyone did what they had to do."
The distributor adapted its way of working, with Kitchin reporting: "I think we realised very quickly that Teams and Zoom were the way forward. We picked up our biggest job in our history so far on a Teams call. We were relaxed about staff working from home, although most are back in the office now. I personally still work mostly from home with just the occasional trip into the office. I'm enjoying working this way. I've been able to do a lot of walking since it all started and will listen to a podcast or make some calls whilst I'm getting my steps in." See his photo here for a taste of him in action!
Underlining that the company worked and supported its operator customers all the way through the crisis, Kitchin added: "The engineering arm of our business has remained busy looking after care homes, schools, hospital clients, etc. We have continued to attend sites and I don't think our project managers have ever been as busy."
Supplier shout-outs
C&C MD Peter Kitchin said of his company's supply chain relationships: "I believe all the suppliers helped and supported us; we see them as partners and appreciate what they do for us. I'm not sure anyone excelled, as they are all always fantastic to us anyway, but no one let us down, which is amazing under the circumstances."