*Up 1*
In the 12 months to 30 April 2019, C&C Catering Equipment smashed through the £20m turnover barrier for the first time, generating £21.9m revenue between its kitchen design house and subsidiary companies C&C Catering Engineers and C&C Catering Fabrications. This represented a 24% turnover increase, with operating profit likewise rising 4% to over £1.3m.
MD Peter Kitchin cites having a great team as being integral to this success. "Trust the team and employ people for the long term. Delegate. Do the right thing. Treat people fairly and as you would wish to be treated yourself, whether that be staff, main contractors, end user clients, consultants, suppliers, etc."
Story continues below
Advertisement
But of course the current coronavirus crisis is likely to mean C&C won't be able to hit these highs for a while again, with Kitchin evaluating: "There is no doubt about it, it's been a hard year! We had the Brexit scenario, then the election and after the result the industry was buoyant in January and February, then we were all hit with Covid-19.
"At one stage when this all started in March we had 68 staff in the three companies and 52 on furlough. The staff that carried on working were amazing and took on work of their colleagues as well as their own. At the three C&C companies the situation has brought out the best in people. We tried to carry on regardless even though two of our three offices were closed, and we did our best to do what we do. Gradually more and more staff are returning to work on a weekly basis. We also treated our suppliers fairly paying everything that was due, even though some of our clients decided not to pay us."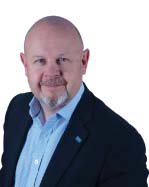 In terms of looking across to other competitors, Kitchin reported: "I think we are all pretty much in the same boat. Thankfully we don't do a great deal of pub/bar/high street work – so perhaps others have been hit a lot more than ourselves.
"We have had regular videoconferences with CEDA and heard what some of our colleagues had to say. I have also had regular weekly videochats with a couple of friendly competitors – we called it the Northern Powerhouse Meeting. I think the name made us feel good! It's good to talk to like-minded people. I wouldn't want anything bad to happen to their companies and I know the sentiment comes back from them to me and my company."
In terms of how he sees the next financial year, Kitchin warned: "It will be a disaster. I would think it will be our worst year for 20 years or so. Our year end was April, and with Brexit, then Covid-19 there will be nothing good to come from it. We had £3m of work to happen in March and April, in the end we did £1.2m total.
"The good thing is that the work that didn't happen before year end will be done in this financial year. We had good cash reserves at year end and also a good net worth, it's important to make the company strong so it can take a hit if you have a rainy day – or even a Covid-19 monsoon! We are in a comfortable position and can certainly ride out this storm. We have a great order book too which certainly takes the pressure off."
Expert advice
C&C MD Peter Kitchin feels the industry should: "Keep the faith. Take whatever help you can; the government did a great job with the furlough scheme, helping ourselves and our team. Be nice to people and expect them to be nice back. Treat everyone fairly especially the suppliers, they are an important part of what we do. Join associations like CEDA, FEA (CESA) and Cedabond who have all been more than helpful with their advice and emails over the past few months. Enjoy what you do, even if it's hard at the moment."