Catering Insight takes a look at the latest and greatest shelving and storage products currently available for dealers to specify:
Cambro Camshelving Basics Plus Series
Unique selling points: The Camshelving Basics Plus Series is designed to be impervious to harsh chemicals and salt water. Therefore, it is claimed to be a superior alternative to wire or aluminium shelving. The series can be configured in many ways using corner connectors and shared posts to fit any storage space. This helps maximise usable storage space without compromising weight bearing capacity. Basics Plus should be easy to install, and individual shelves can be adjusted without taking apart the entire unit. Components such as shelf plates or traverses can be easily cleaned.
Story continues below
Advertisement
Technologies used: Made from 100% rust-proof and corrosion-proof composite plastic materials, the shelving is designed to be strong, so it offers equal or better weight bearing than aluminium or wire shelving.
Available variants: 500 of all sizes, to fit any space. Customers can choose from shelving units available in three heights, four depths, and six lengths.
Suitable sites: Basics Plus Series should be able to handle the storage demands of any environment for any foodservice operator. It is suitable for use in coolers, freezers, warewashing areas, and dry storage.
List price: Varies based on the size of the shelving unit.
How to sell the product: Dealers can utilise Camshelving Design Solution (CDS), Cambro's proprietary software that creates custom shelving layouts, to find a shelving solution that maximises a customer's available storage space and creates an efficient operational flow. Dealers can provide their customers with 2D and 3D floor plans so they can envision how their new shelving will look and function before buying.
EAIS E-Z Rack Ali/Poly Removable system
Unique selling points: The E-Z Rack Ali/Poly Removable system is structured from anodised aluminium combined with lift-out polymer inserts to allow it to offer a lifetime anti-corrosion guarantee. In addition, two of the three depths offered are GN compatible. This allows 1/1 and 1/2 size GN pans to drop directly into the sub-frame.
Technologies used: EAIS offers a free quotation and layout design service via a specific CAD programme.
Available variants: Three depths – 373*, 475 and 577*mm (*GN compatible), three standard heights – 1,550, 1,700 and 1,950mm.
Suitable sites: Anywhere needing to organise, handle, display and maximise the storage space available whilst in compliance with hygiene standards.
List price: Competitively priced.
How to sell the product: Focus on features and benefits including longevity, life-time anti-corrosion, durability and flexibility.
Craven shelving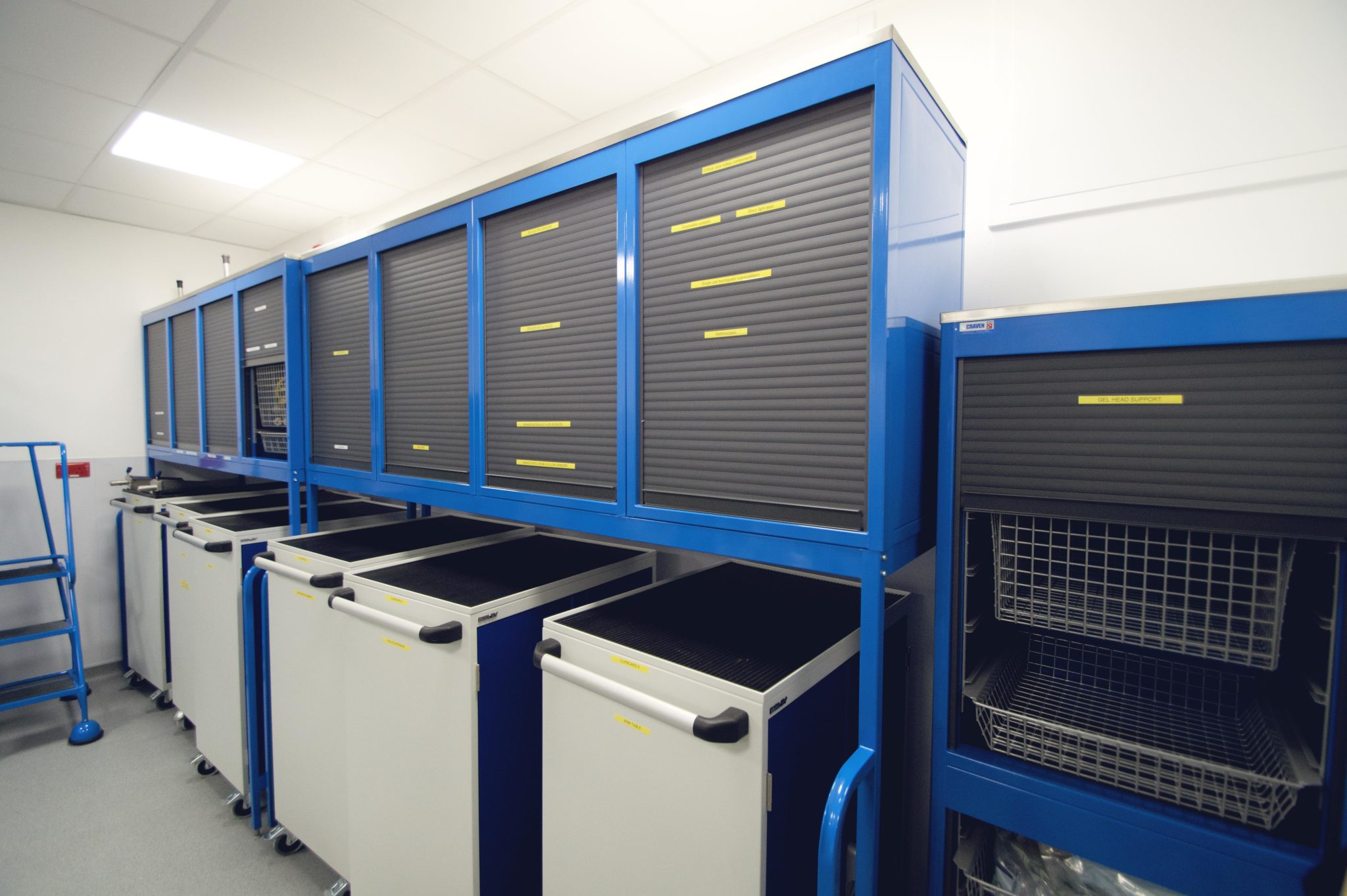 Unique selling points: The standard product is manufactured in the UK, with Craven stating it is the last volume manufacturer of modular shelving units here.
Technologies used: Specially developed food safe powder coating for a nylon finish to the shelving, utilising Craven's coating plant and robot technology.
Available variants: 36 different sizes to ensure that the shelving will provide the best possible fit.
Suitable sites: The full range of catering uses, plus medical applications which use high levels of track-based shelving and more bespoke products.
List price: Competitive on price.
How to sell the product: Craven feels that British-made product is becoming increasingly desirable for two main reasons – Brexit and the environment. More end users particularly in the public sector are taking the carbon footprint of the supply chain into account when selecting product or awarding a contract.
Shelfspan Eko Fit
Unique selling points: Shelfspan believes the large range of sizes and the ability to adapt to fit any room stands this product apart. It allows near-bespoke application from a standard product. As well as linear add-on units, corner kits are also available to attach units at right angles.
Technologies used: It is designed to be a simple and easy system to put together, with one-man assembly said to be readily achievable and easy to manage.
Available variants: 440 size variations.
Suitable sites: With accreditations from NSF and NF, it is suitable for all foodservice areas including coldrooms, freezers and dry stores.
List price: Starting from £244 for a four-tier unit.
How to sell the product: Focus on key areas that highlight the benefits for the end user, such as hygienic factors and the ability to easily clean the shelving due to dishwasher-safe removable shelf slats.
Hupfer shelving
Unique selling points: Hupfer shelving is designed to be flexible and rearranged within seconds. Each shelving system works in the same way, being modular, connectable and interchangeable.
Technologies used: The manufacturer uses configurator technology to calculate the shelving to be fitted into a room, optimising the amount of space available and producing an immediate price and drawings so that shelving can be visualised.
Available variants: In stainless steel, aluminium, aluminium polymer and galvanised steel, with solid, louvred, slatted and wire. Through connectivity, any width from 600mm is possible.
Suitable sites: All environments, but particularly for coldrooms.
List price: Available on the firm's website and price list. Hupfer can also provide excel lists of all shelving units, and they are available on CaterQuotes.
How to sell the product: Using its configurator software, Hupfer believes that dealers can detail accurate shelving solutions.
Tournus/CED shelving
Unique selling points: Easy assembly, by tapered self-locking insertion to strengthen the structure. One person can assemble 5 metres in 5 minutes, without tools. Modular: in line or corner type assembly, with three, four or five tiers at widths of 400, 500 or 560mm and a height of 1,750mm. It is possible to assemble solid shelves for the bottom and perforated shelves for other levels, with the solid shelf protecting products from moisture when cleaning the floor. The shelves are removable and washable up to 90°C, while load resistance is 200kg, evenly distributed per level. Adjustable jacks are provided for stability, and a corner hook removes the need for an upright for optimum accessibility.
Technologies used: Anodised aluminium structure and polypropylene grids, all fully recyclable materials.
Available variants: 12 basic lengths, three widths, perforated or solid grids, linear or corner assembly allowing more than 5,000 possible combinations.
Suitable sites: Professional kitchens and the food retail trade. It is designed to store food products and accessories used for preparation (trays, professional clothes, pans, bottles, kitchen utensils). It is also found in bakeries, butchers, delis and cheesemongers. It is equally suitable for use in coldrooms as for storing products at ambient temperature.
List price: The product catalogue details the price of each available combination.
How to sell the product: The multiple combinations and the advantages of the product allow the shelving to adapt to any installation.