Efficiency plays an essential role next to food quality in commercial kitchens – and that has shaped the latest flexible and multifunctional professional cooking equipment on offer from MKN.
The company's FlexiChef and SpaceCombi Team appliances have been developed to assist users with optimising processes, saving energy costs and maintaining standards of hygiene in professional kitchens.
Changes in consumer behaviour, new eating habits such as home food delivery or takeaways, constantly changing food trends and the need to stagger meal times are just a few of the market developments taking place right now.
Story continues below
Advertisement
MKN's multifunctional professional equipment helps chefs and operations managers meet these diverse requirements and work cost-efficiently and profitably at the same time.
Multifunctional appliances intended for universal application bring fast returns on investments, due to high capacity utilisation, fast reaction to food trends or simplified processes.
IN FOCUS: The MKN FlexiChef – Optimising cooking processes
The MKN FlexiChef is a small economic marvel. Operators will get things done fast and easily with this award-winning multifunctional cooking appliance. Tender beef bourguignon takes around thirty minutes, delicious risotto seven minutes and the pan is cleaned in two minutes only.
This means users cook three times faster than in a conventional cooking process. And it will maintain consistent top food quality, saving time and energy too. Whether you need to cook, grill, deep fry or cook at high speed, one appliance makes it all possible.
The first ever automatic cleaning system SpaceClean ensures not only a high standard of hygiene; it also holds a hygiene certificate and can revolutionise time management.
Thanks to FlexiZone it is easy to prepare an entire menu simultaneously in one skillet pan. The pan base can be divided in up to three zones. Temperature and time are individually controlled for each zone (for frying). This is not only fun, but saves also time and energy.
In addition, FlexiChef Team brings flexibility to another level. Two FlexiChef units can be combined to one appliance with two separate operation systems in the middle. This can increase output and productivity even on a small footprint.
IN FOCUS: SpaceCombi Team – Maximum variety in minimum space
Ever smaller kitchens and an increasing demand for product variety that needs to be quickly and freshly prepared – MKN's SpaceCombi Team with two cooking chambers and independent operation systems has been designed to meet exactly these requirements.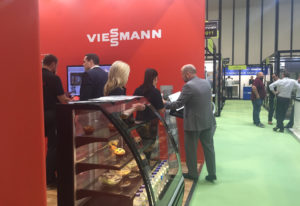 With a width of 55 centimetres only, these small-size, fully featured combi steamers offer all the same functions as their larger models. Small, compact, easy to operate and boasting diverse cooking applications such as steaming and frying in one appliance.
Features like Guided Cooking ensure consistent food quality and guide the user step by step through the entire process.
The AutoChef integrated automatic cooking processes, step by step instructions with ChefsHelp or the possibility to start a cooking process by a simple barcode scan are some of the features which are part of the Guided Cooking concept and enable professional chefs to easily produce consistent food quality every day.
The automatic cleaning system WaveClean using a two-in-one cartridge makes cleaning easy. It also cleans where you can't even see – inside the appliance. This extends the life of the MKN combi steamer and maintains its value.
All users need to do is insert the cartridge and start the programme. No need to clean the triple glazed door manually. The result: a sparkling clean, HACCP approved combi steamer.
For operators that value even more freedom when cooking, the SpaceCombi Magic Team with integrated and self-sufficient ventilation system is the perfect solution.
The MKN four-stage filter technology effectively reduces blue smoke, fat and odours and caters for a fresh and pleasant room climate for staff and guests, regardless if you are cooking fish, spicy marinades or grilling chicken.
How to increase efficiency in a professional kitchen and maintain high standards of hygiene
Through its online personal seminars, MKN experts will gladly assist users with consultations exactly matched to their specific needs.
Simply select your preferred date and time and register HERE.