There were mixed fortunes for equipment leasing and servicing specialist JLA, with revenue and profit heading in opposite directions.
The overall group's latest publicly available report, available on Companies House, covers the 12 month period to 31 October 2018.
In that year, turnover rose by 11% from £116.3m to £129.4m, but operating profit plunged 52% from £20.3m down to £9.8m.
Story continues below
Advertisement
However, it is not known how much of this is generated by catering equipment, as divisions' financial results are not reported separately.
EBITDA from continuing operations rose by 10.9% to £38.9m and this is stated to include 'significant investment' in long term growth strategy. 'Separately disclosed items' impacting operating profit are pinned on costs related to a shareholder transaction, business transformation costs following the transaction, and legal and other costs relating to a CMA enquiry into the acquisition of launderette supplier Washstation Ltd.
The CMA concluded that the May 2017 deal by an indirect subsidiary of the company resulted or was expected to result in a substantial lessening of competition in the market for the supply of managed laundry services to higher education customers under vend share agreements in the UK.
As a result, the CMA mandated that JLA had to divest all the higher education contracts and associated assets held by the Washstation business, a process which is expected to conclude in the next financial year.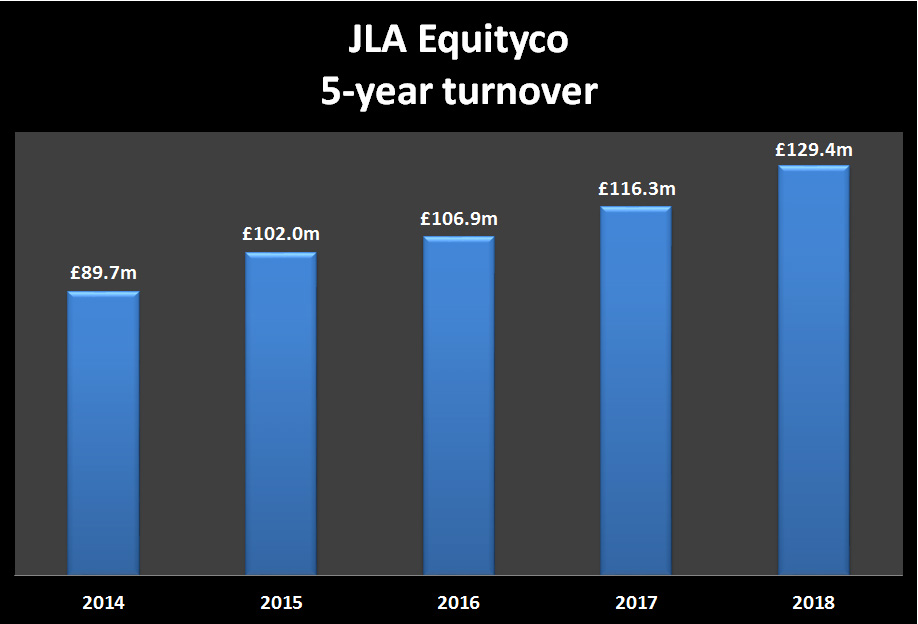 During the reported year the group created a new fire safety division with its acquisition of Fire Bright Solutions in March 2018, plus it added heating contractor William Whitfield to the group in May 2018.
Chief financial officer Paul Humphreys analysed JLA's overall results: "The group's key performance target is to grow turnover and profits in the long term. In the year under review this has been achieved through a combination of strong organic growth combined with targeted acquisitions.
"Over the last few years the board has developed a very clear strategic vision which is being successfully deployed within the business. The strategy will look to continue to grow market share within the existing core business segments, along with identifying opportunities for grown in adjacent markets through both organic product and service development and strategic acquisitions."
He forecasted: "The group will continue to provide a complete product supply and service solution to support its customer base, both existing and new, through the whole lifecycle of their various critical assets that are operated within their business. Through the group's unique sales infrastructure and national service support capability, it will bring new product offerings to the existing customer base and gain market share within adjacent targeted markets.
"The group will also continue to invest in its sales and service capability in the laundry, catering and heating divisions."
Subsidiary companies within the catering equipment industry include supplier DC Products, service company Comcat Engineering, and dealer Proton (Southern). Former distributors Newco Catering Equipment and Carford Group are listed as dormant companies in JLA's latest annual report.
JLA itself was bought out by private investor Cinven in May 2018, while subsequent to the reporting period, Helen Ashton joined the group as its new CEO on 2 January 2019, replacing Stephen Baxter, who moved into a non-executive position.