When catering equipment distributors are putting together specifications for foodservice projects, the humble beverage machine can sometimes get short shrift. Some sites prefer to source these appliances separately, and some sector suppliers tend to circumvent the dealer channel when looking for sales.
But if all parties join up the process and include beverage machines right from the start of a scheme, how can everyone benefit?
Smeg is one brand that believes it has something to offer on this score. The firm acquired luxury espresso coffee machine manufacturer, La Pavoni, in 2019 and has set about integrating it into its portfolio. UK commercial channel director Phil Coulstock detailed: "Smeg Foodservice has continued the already established relationships with existing UK La Pavoni distributors. We aim to build upon those and improve the ease of trading with the brand, whilst adding further business through new accounts with existing Smeg Foodservice customers and new specialist professional espresso coffee machine supply companies.
Story continues below
Advertisement
"Dealers can capitalise successfully on Smeg and La Pavoni equipment sales within the beverage sector, because there are such a vast range of buyers of beverage machines, from coffee roasters to artisan cafes, to bigger restaurants, catering operations and dedicated front of house applications. The breadth of the La Pavoni range is incredible, from traditional espresso lever machines to fully automatic machines as well as professional grinders. Additionally, there will be a full range of accessories available soon including tampers, knock boxes and La Pavoni merchandise."
Furthermore, Smeg now has a fully operational La Pavoni showroom in its Abingdon office, with Coulstock underlining: "The dedicated space will allow Smeg's trade partners, customers and baristas to experience La Pavoni products hands-on, whilst understanding the complexities of brewing the very best Italian espresso. The showroom facility provides a fantastic opportunity for us to connect with dealers old and new and provide them with the La Pavoni experience."
Additional assistance for dealers is available in the form of Smeg's listing on the AutoQuotes software platform, which now also includes the full La Pavoni range of machines and accessories. Coulstock believes: "With AutoQuotes, we can list everything from spec sheets to manuals, allowing dealers more time to concentrate on making as many sales as quickly as possible, with the buyer already having most questions they have answered by the information on the platform."
Smeg Foodservice is also going live with a new website in June 2022, designed to offer a simpler user journey, a more modern look and feel, and a service agent finder function. According to Coulstock: "This allows the dealer to feel that we provide them with the support and aftersales care that their customers may require."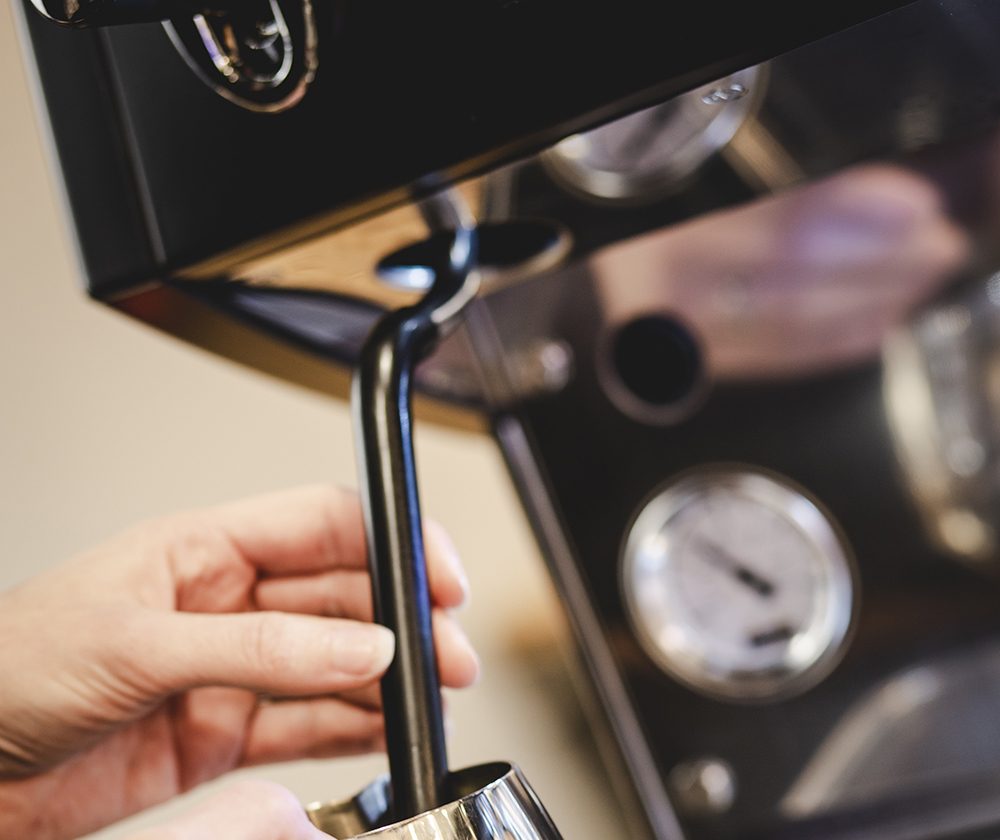 Another major name in the coffee machine sphere is Welbilt, through its Crem division. So how does the business connect with dealers to sell beverage machines? According to UK and Ireland sales director, Steve Hemsil: "Welbilt has longstanding partnerships with established dealers, and building excellent mutually beneficial relationships is the key goal. With regular meetings, phone catch ups and general check-ins, the Welbilt team has strong and regular interactions with their partners.
"The ultimate aim is to ensure that every person who has a coffee or other beverage from our equipment has the best experience possible, and that influences how we interact with our dealer network. We provide technical and product equipment training and keep them up to date on new products. Any good partnership is a two-way street so it's important that we keep each other updated on industry trends, what's going on, exhibitions, opportunities, and any feedback from end users."
Hemsil was keen to emphasise: "The world of beverages is more complex than just selling a coffee machine or a hot water boiler. At Welbilt we want end users and consumers to experience the best that our equipment can offer, so it's really important that we train, train and train some more to ensure that whoever uses our equipment knows what they're doing, knows how to get the best out of it and knows how to use it optimally for their business.
"With our Crem EX3, we offer sales support, training, and installation through to ongoing business support. We know how the Crem EX3 should be calibrated to deliver the most perfect coffee and we know what kind of coffee is popular with baristas and consumers so we can pass on this knowledge to dealers who can then offer a great service to their customers."
According to Hemsil, Welbilt's full support package in conjunction with dealers means: "If you're selling a coffee machine, you need a good quality bean grinder, a water filter and a barista kit with milk jug, knock out coffee drawer and tamper. There's no point spending a lot of money on a top of the range espresso machine if you don't surround it with good equipment to obtain the perfect espresso."
Elsewhere, Electrolux Professional is placing increasing emphasis on its beverage machine provision as part of its wide-ranging offering. UK and Ireland head of channel sales Alex Reed believes: "Electrolux Professional is the only genuine supplier of end-to-end solutions for the catering industry, from cooking appliances through to beverage equipment.
"Dealers can undertake comprehensive training across our full range of beverage solutions, equipping them with detailed knowledge of each appliance's USPs, benefits and best applications. From here, our regional business managers work closely with dealers to first identify and then distribute the correct solution to each end user operation in line with its unique requirements."
Reed stressed: "Our strategy has always been to work closely with our partners, and this is something that we wish to continue with, moving forwards. One of the more significant developments in the past year has been the re-opening of our Center of Excellence in Luton, which offers an opportunity for us to collaborate with dealers to maximise sales.
"The Center of Excellence is equipped with a dedicated beverage bar and demonstration area, allowing dealers to gain hands-on experience with our full range of solutions. This extends to their customers too, and has proven to have an excellent conversion rate for those who visit, so working with dealers to drive footfall to the venue is a priority."
He sees beverage appliances as a real opportunity for distributors, commenting: "The sale of beverage equipment has traditionally been signposted to specialists, so the introduction of Electrolux Professional's support for this range has opened up a new revenue stream for dealers.
"Here, taking advantage of seasonal trends will be key to maximising sales. Customisable hot beverages such as teas, coffee and hot chocolate can benefit from the bumper season of Halloween, Bonfire Night and Christmas, while soft serve and other frozen beverages have long proven a popular choice in the summertime."
Reed further added: "During the sales process, we encourage our partners to advise potential customers on the benefits our Essentia, our comprehensive customer care package. Through this, we can provide a range of consumables to help customers keep their machines in good working order, including de-scalers, filters, spare parts and accessories."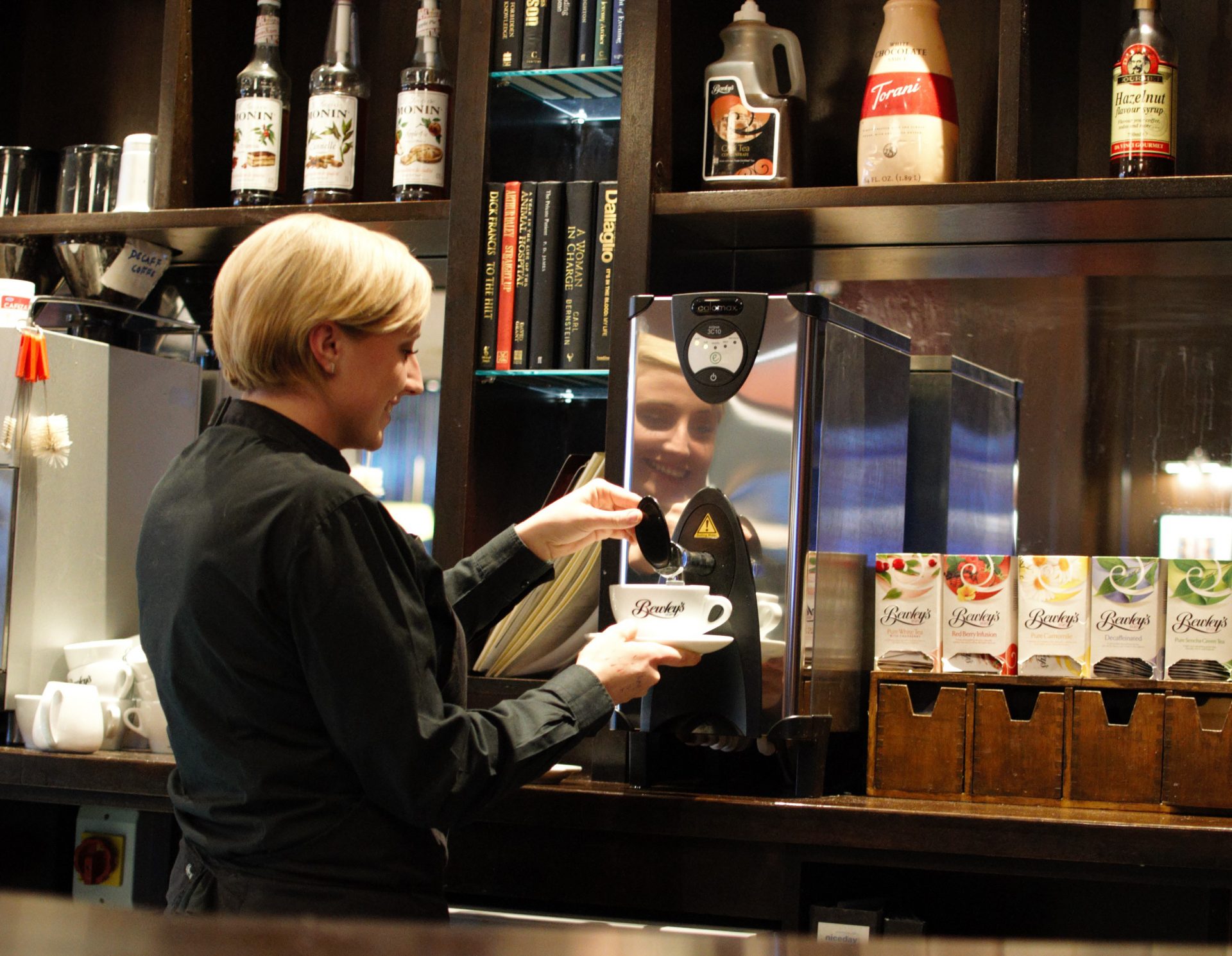 Another vital piece of kit within the hot beverage sphere is a water boiler. Calomax has been trading in this specialism for over 70 years from its Leeds factory, manufacturing WRAS-approved units. While the firm has decades of distributor relationships to draw upon, sales and marketing director Paul Bowers was eager to underline: "We do not rest on our laurels and regularly send e-shots to distributors old and new. Prior to the pandemic, we regularly visited distributors, but are now primarily restricting face-to-face meetings to training sessions.
"We have always preferred to deal directly with distributors, rather than go through wholesalers. Our discount structure enables a level playing field and bona-fide distributors who are prepared to invest the time for staff training, will pay the same price for one boiler as a larger organisation buying 10 or 20 at a time. We provide free technical support and back-up and encourage our distributors, if they have the facility to do so, to maintain their customers' equipment throughout its lifetime. In this way they will invariably benefit from repeat purchases."
Bowers believes it's important for dealers to maintain quality when specifying beverage equipment, commenting: "No one needs me to tell them how badly the HORECA sectors have been affected by the pandemic. Many of the distributors' established customers have closed, and those that are operating, are often doing so on a shoestring. The temptation to sell cheap equipment is strong; but ultimately is bad for the user, the distributor, and the environment.
"It is possible to buy a cheap boiler imported from the Far East for about half the price of a Calomax product. But it's not WRAS-approved, it won't last, and if it doesn't have an integral scale-inhibitor it will need to be de-scaled regularly using caustic chemical descalants which are then flushed down the drain."
He concluded: "The best way for dealers to capitalise on equipment sales in the beverage sector is to find out exactly what their customer needs – do not try to 'upsell' or offer unnecessary bells and whistles – and offer the best quality equipment the customer can afford. If dealers stick to offering reliable, quality equipment, their customers will save money and consider them favourably for any future purchases."
At Jestic Foodservice Solutions, it has Vitamix blenders and Elmeco slush machines within its portfolio. National sales manager Mike Woodman said: "At Jestic, we believe the best way to support our dealers is to allow them to see these machines in action – after all, there's no better way to understand the capabilities of machine than seeing these capabilities in person.
To facilitate this, Jestic regularly invites its dealers to the firm's nearest test kitchen, in Paddock Wood, Kent, or Manchester, for live demonstrations on the Vitamix and Elmeco range. Woodman recalled: "In a recent dealer visit, we even had the Vitamix Quiet One blending in the background of the dealer's sales meeting, which of course allowed the team to understand first-hand just how silent this machine really is."
He further explained: "If it's more convenient for a Jestic sales member to travel to a dealer's own facility for a Vitamix product demonstration, then this can easily be arranged as each regional sales team carries car stock of Vitamix blenders.
"After each model is demoed, we will then allow the dealer to taste the drinks produced. This helps with the overall understanding of a product and quite literally gives the dealer a taste of the quality of the drinks produced."
Woodman feels that dealers could reap the benefits by shifting their focus to drinks appliances, saying: "Many dealers still choose to exclusively focus on food equipment, however, there are massive opportunities for selling beverage equipment solutions in the UK which is why Jestic encourage dealers to look at offering beverage equipment models in additional to food equipment solutions.
"For example, an Elmeco Slush machine is often a perfect accompanying model to an Icetro ice cream machine in a dessert parlour, or even an in a café alongside an Xpresschef high speed oven. Likewise, freshly made juices and smoothies are growing in popularity which is why Vitamix blenders are a fantastic option for dealers that want to tap into this market."
He added: "As well as providing Vitamix blenders, Jestic Foodservice Solutions can also provide dealers with Vitamix's complete range of accessories and containers. These include Vitamix coloured Advance containers and matching lids. These containers are available in blue, orange, purple, and yellow to reduce the potential for allergen cross-contact."
Fellow blender supplier, Metcalfe Catering Equipment, provides Ceado appliances for use in preparing cold beverages. MD Neil Richards detailed his company's approach to the dealer relationship: "One of the primary roles of our sales executives is to act as a surrogate salesperson for the distributor, essentially acting as a product demonstrator, technical adviser, and solution seller.
"Members of our sales team will often visit the end user/operator and engage them in setting specification, building credibility and creating trust, before introducing the customer back to the distributor. Dealers and end users need to trust the experience of suppliers who have been in the beverage equipment market for decades, have a proven understanding of it, and offer high levels of equipment quality as well as the service and backup required by the end user/operator."
In terms of upping engagement with distributors, he revealed: "Now that the pandemic has become a part of everyday life and we are able to go and visit dealers again this is something that we will certainly be looking to ramp up in the months ahead. The re-opening of trade events, such as the recent HRC show, is another way for us to both engage with new dealers and re-engage with existing ones. On top of that we are looking forward to being able to meet up with dealers at conferences such as those run by both Cedabond and ENSE."
So how does Richards think dealers can tap into equipment sales in the beverage sector? "The continuing trend towards healthier eating and drinking is helping to keep the market for blenders and juicers buoyant but the best way for dealers to capitalise is to sell the benefits of the machine, such as efficiency, reliability, output, and yield," he said. "If a dealer can demonstrate to the end user that they are going to reduce their wastage and get more from their ingredients that is half the battle won."