As foodservice sites are increasingly welcoming diners back following the pandemic, the fight to attract custom is ever fiercer. Therefore front of house installations such as counters and serveries are even more important to creating appeal and displaying food to its fullest.
So how are this equipment's manufacturers helping to deliver that 'must eat' impulse, and what do dealers need to know when specifying these appliances?
One supplier in this sphere is German brand Venta, which created its modular buffet system with design and flexibility in mind, both for operators and guests. The heating system for hot holding, generated by induction technology, is hidden under the tabletop, meaning that guests are presented with a neat-looking buffet display. The heat can also be provided from above if a heatbridge is added, which can also include lighting to enhance the food display and give the overall buffet counter a smart appearance.
Story continues below
Advertisement
The choice of tabletops in either coloured glass or compact panel material, available in a selection of finishes including concrete, marble, linen or wood designs, means it should be simple to match the style of the room and enhance the food display.
Risers matching the tables' style can be added to the buffet table to add height, therefore enhancing the overall look of the food display. When used without front and side blinds, the Venta system should appear open, and therefore discreet, within a venue.
Signature FSE supplies the Venta brand to the UK, with MD Paula Sherlock, underlining: "One of the key features of the Venta buffet system is that its tables for keeping food warm use field induction instead of point induction, unlike other brands, meaning that each induction zone can accept multiple dishes. This gives operators the option to add multiple dishes of different colours, shapes and capacities within each induction zone, creating a more aesthetically pleasing buffet display.
"Venta's plate warmer system allows the use of a mobile plate warmer within a customised Venta table to blend in with the venue's decor. It is a very useful piece of equipment to ensure food stays warm for as long as possible to give the optimum guest experience, while maintaining a seamless look when placed next to the buffet tables."
She added: "The minimalistic design of the Venta tables means that they fit in both classic and modern environments as they blend in with the architecture of the interior design. All Venta Stage tables can be nested together, providing a space saving storage option and flexibility of operation."
At Dutch-headquartered brand Fri-Jado, it designs its counters and display equipment to be "all about the food", according to UK director of national accounts, Gary Thacker. "Of course, creating the perfect storage conditions and reducing energy consumption are crucial for counters and serveries, but if the customer is unable to clearly see and be tempted to purchase the food within, then sales won't achieve their full potential over the life of the unit.
"Our equipment portfolio has been designed to display food in the most irresistible way, while innovative, patented technology gives the operator the peace of mind that their customers can enjoy their food just the way it was intended."
One example of these aims in action are the firm's modular convenience counters (MCC). These combine the latest airflow technology, design and thin shelves to put food in the spotlight within these modular hot and cold counters.
Thacker emphasised: "The Fri-Jado MCC range has been designed to offer a complete 360° view of foods, providing up to 30% more display surface and up to 75% more product visibility with the highest total display area. For even greater display capability, the MCC Cold uses slim, transparent, and adjustable shelves which appear to be floating, creating the ultimate food experience for customers."
The range uses several green technologies to minimise consumption, with the cold counter utilising eco-friendly refrigerant R290, which has a low global warming potential of 3, as well as the OmniCold low velocity air flow to deliver precise holding temperatures.
The hot units within the range utilise the patented hot blanket holding system, air curtain technology and hot air recycling per shelf, to achieve claimed ongoing energy savings of up to 40%.
Thacker added: "The MCC range is constructed from high quality, durable components, extending the operational life of the units. When the appliances reach the end of their usable lifecycle, they are up to 99% recyclable – further helping the environment in the process.
"Over the past 25 years we've taken a four-stage approach to ensuring grab-to-go success – we call it 'Food To Go, The Fri-Jado Way'. The four steps are: food solutions, packaging proposition, innovative equipment and complete solution. When put together, it's this four-stage approach and the ongoing support that Fri-Jado provides to dealers, distributors and their customers alike that has allowed us to develop our global reputation."
Specialist displays can also play a vital role at more niche foodservice sites. For instance, Hoshizaki's line of sushi display cases are said to combine innovative features with a modern and elegant design, and are configured to highlight and preserve the freshness and appearance of fresh fish, meat and perishable products.
Hoshizaki UK's national sales manager Roz Scourfield commented: "The eye-catching rounded glass window creates an attractive display for fresh ingredients and comes with anti-scattering film for glass splinter protection."
The sushi case range is designed to maintain the most natural level of humidity and food-safe temperatures, including during peak serving times with frequent door openings. The smooth and diffused airflow is designed to work without any forced air circulation. This method should create suitable conditions and avoid unpleasant dehydration and weight loss of the stored goods.
For further temperature control, operators can flip the inside tray (up for delicate types of fish, down for fish-types with lower storage requirements) to set the most suitable inside temperature for different fish types, meaning they should not dry out, lose flavour or shrink in size.
Hoshizaki has also expanded its speciality sushi case portfolio with new LED models. By offering LED lights as a feature with the sushi cases, the manufacturer aims to provide both the caterer and customer with a clear and illuminated view of the contents within the glass-fronted case, while operating in an energy efficient way. They are also available in a sustainable HNC HC model, as well a range of sizes with either left- or right-handed openings.
Scourfield said: "Our new LED-light sushi cases are a perfect example of how Danish design principles and Japanese engineering techniques can come together to create innovative and sustainable catering solutions."
Elsewhere, Epta brand Eurocryer, which specialises in tailor-made refrigerated solutions, recently introduced Cornice, a self-service island on two sides, with a semivertical head cabinet, and available both in Hot and Dry versions.
Epta product strategy manager Giorgio De Ponti explained: "Cornice stands out for its attention to details and its fully customisable aesthetics: from the choice of materials, colours and heights, to the customisation of the front panels. Worthy of note is also the high transparency of the backs, terminal ends and roof, for total visibility of the products, from all viewing points. Finally, to guarantee the highest levels of hygiene, the shelves and the decks are in stainless steel and removable for easy cleaning."
He underlined that Eurocryer products enable food to look appealing as: "The attentive design of our cabinets ensures the perfect proportion between glazed surfaces and structure, to guarantee excellent ergonomics. The display deck and the articles are at the 'right height', to improve interaction with the consumer and encourage greater rotation, whilst supporting the operation for ease of restocking."
He added: "Finally, thanks to exclusive technologies we guarantee the best freshness and conservation of each type of product, making them more appealing."
De Ponti advised dealers: "Along with an elegant and distinctive aesthetics, dealers should take into consideration the design and ergonomics of the refrigerated cabinet, both for the diners and the staff.
"The design of a counter must ensure speed of service in a short time, and safety of the staff. In the design process, two essential elements must be taken into consideration: the length of the counter and its ergonomics.
"In serve-over cabinets, for example, the solution should have a specific length suitable to the number of people serving the customers (normally each employee should have 1metre of space to their right and 1metre to their left, in order to serve in a short time a larger number of people). Moreover, counters should have a maximum depth of 80cm (worktop included) to guarantee good ergonomics and to prevent the staff from having musculoskeletal problems to the back, arms and neck."
For Knowsley-based Trak Catering Solutions each counter is created "not just to be functional, but also to fit seamlessly within its environment, whether that be a dining or retail setting," according to design director Ian Hodgson.
He asserted: "Ergonomic design brings a modern, sleek look to our counters which ensures that staff are easily able to keep food in the best possible condition at all times and, when combined with features such as enhanced lighting, clear glass and a logical, smooth flow, enhances the consumer experience."
Trak has designed a new hot and cold plate system that can be integrated into its counters. It uses the latest technology to give accurate temperatures and quick turnover times to ensure the food is always at the correct temperature. Hodgson revealed: "We have also deliberately designed it so that it has a very pleasing look and feel. We pride ourselves on our refrigerated units and use the latest in hydrocarbon technology to reduce energy consumption within all our cabinets, including bespoke designs.
"Our hot and cold plate is currently still in its infancy, but we have no doubt that it will become a market leader in its field very quickly. We are also in the research and development stage with new heat technology for our hotplates. We are continually investigating ways of reducing energy consumption, and as a part of that, we have recently introduced a new LED light and heat lamp gantry combination which is both aesthetically pleasing and energy efficient."
In terms of what dealers should consider when specifying counters, he pointed out: "Like all catering equipment, this is about specifying the right product for the job, and in this case that means focusing on what the customer is going to be serving from it. Flexibility, in relation to how the servery can be used, is also important. For example, the end user may benefit if the servery is designed so that it can be used in different ways at particular times during the day. Energy consumption is very important and should not be overlooked within any counter scheme."
Over at Taylor UK, it imports the ISA range of serveries and counters from Italy to the UK. Depending on size and budget, ISA's chilled display counters can feature different combinations of refrigeration and shelf options.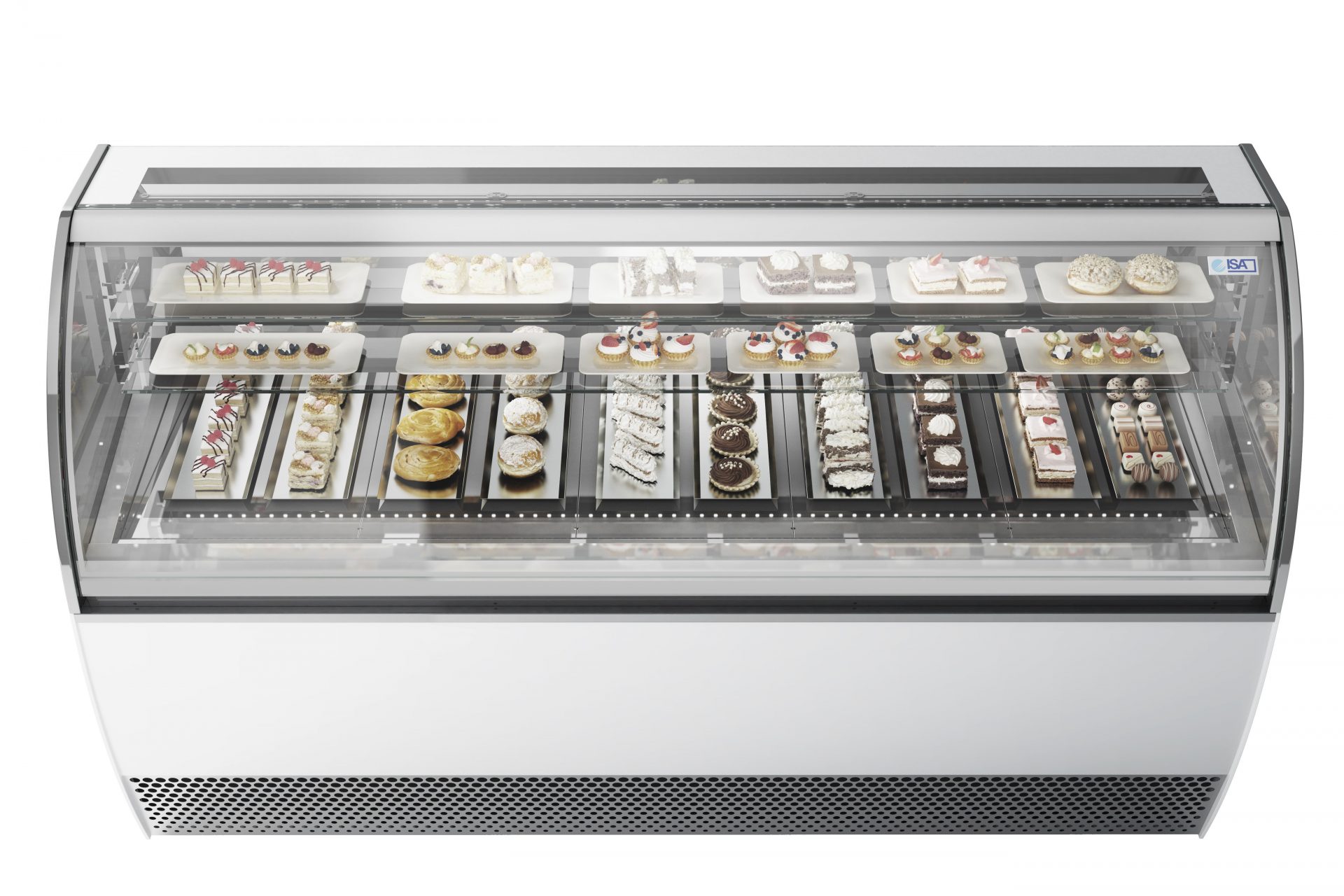 They have large glass front and side panels with minimal supporting structures to maximise the visibility of the products on display. The lower areas are raised up in the cabinet so they're almost level with the bottom of the glass, so customers can see the products from a distance without having to come close and 'peer in'. Their heated front windows are designed to prevent the built up of condensation in humid environments, ensuring the aesthetics of both the display and the food products are maintained at all times.
David Rees, marketing manager of Taylor UK, detailed: "ISA has been manufacturing refrigerated displays for decades. Its R&D department is continually refining the technology used in all of its displays to optimise energy efficiency, operational performance and aesthetic design. ISA works with a wide range of internationally known designers to create some amazing and beautifully designed units which don't compromise on operational performance."
The brand utilises the latest in electronic controls to ensure accurate operating performance. The serveries and counters feature ventilated refrigeration systems which actively blow the cold air throughout the display, which should ensure even temperatures are maintained in all areas.
Rees revealed: "ISA actively moved to LED lighting a few years ago – this is a more efficient way of lighting chilled displays. LEDs do not emit heat which is a huge plus for refrigerated displays. The added benefit of LED lighting is customisation. RGB LED systems allow cabinets to be illuminated externally in almost any colour scheme and the internal areas and shelves can be individually illuminated to maximise the visual impact of the product."
Some of the ISA counters and serveries also feature dual zone options which allow the safe display of different foods at different temperatures. These cabinets feature dual refrigeration systems for both efficiency and operational performance.
For each installation, Rees recommended that distributors define what serveries will be displaying, how the products will be served and the position of the unit. "Dealers need to ensure that the refrigeration type fits the brief. Always ensure there's sufficient room to allow cool air to circulate and warm air to be vented away from the unit," he concluded.