Counters and serveries dominate the front of house aesthetic for many foodservice sites, so matching to an operator's brand theme is often highly important. Therefore, Catering Insight quizzed sector manufacturers on how they can use customisation to enable dealers to clinch that vital sale.
For instance, Valera's counter fascias and decors are always tailored to match the interior design of the premises. Sales and marketing manager Kurran Gadhvi detailed: "We work alongside our distributors/design houses/interior designers to choose a material and colour to match. Most run of the mill counters come with lacquered or laminate finishes, however, the trend recently has been very much a bespoke cladding from tiles all the way to concrete."
The firm ensures its offerings are visually appealing via straight or curved glass options, LED lighting within the serve over as well as lighting to the bottom of the fascia. Different colour lighting within each cabinet is also available to suit the foods being displayed, plus different fascias and decors, and work surfaces on both the staff side and on bar/till counters.
Story continues below
Advertisement
If counters need revising at all, Gadhvi reported that it is easy for Valera to carry this out in the design stages or for existing modular units. However, he warned: "If they are bespoke, this can be quite costly for the client."
The manufacturer offers free site surveys on behalf of or alongside dealers, as well as providing both 2D and 3D designs. "We have a dedicated team to provide counter expertise at site and in the office, and we have a build/shopfit team that can provide bespoke customisation in house," noted Gadhvi.
Meanwhile, Moffat Catering Equipment can customise fascias with logos to encourage meal take up and fit in with a site's décor. Plus the Moffat Versicarte range of modular, heated, ambient and refrigerated units can be used singly or butted together to form a straight or angled service counter. They are available in a variety of finishes from stainless steel to custom-made.
Sales manager Donald Reid believes: "Attractive and well thought out counters allow users to benefit from chefs' designed meal choices. Quality counters and serveries ensure complimentary products can be located together, and so one may sell the other. Our counters can display food professionally, using clean and brightly lit units."
The company's Versicarte mobile servery counters are designed to allow caterers to change the layout of the foodservice area as numbers increase, and, after serving, the units can be wheeled away to allow the space to be used for other purposes. They are constructed mainly from stainless steel with a choice of coloured plastic coated panels which are extended down to partially hide the castors.
Built for durability and ease of cleaning/maintenance, the Versicarte units have a bright polished stainless steel interior, heavy-duty rodded shelves and removable stainless steel sliding doors. Fitted with 125mm diameter castors, two of which have brakes, the units are designed to be easy to move about and secure in place.
For one recent project, Moffat worked alongside Hull-based distributor ATL Commercial Kitchens to design and manufacture bespoke counters as part of the redevelopment of the Siemens Gamesa Renewable Energy factory facility.
Once ATL had discussed the project with Siemens, it briefed Moffat as to what was required, which was then able to translate the ideas into a real-world product. By replacing the old single counter with two island units, Moffat was able to give staff access on both sides of each counter, which speeded up service exponentially.
In terms of the finish, Siemens chose stainless steel tops with white panelling on the counters, while the wall cladding is a vivid green, keeping the canteen in line with other parts of the factory decor.
The two island counters have a contemporary, simple design, which fits with the existing surrounds. One counter is for hot food, with ceramic hot tops, while the cold counter features refrigerated wells.
Elsewhere, C&C Fabrications MD Greg Swift feels: "The fascia panels are probably the most focal point of the any servery counter and as such it is crucial the look is right.
"The construction methods we use on our counters allows us to offer our customers and design teams an almost infinite selection of decorative finishes, which can be designed to fit in with both the surrounding restaurant theme and branding the customer may require."
The firm offers counter fascia panels ranging from a plain colour laminate finish to granite, solid surface, hand beaten copper or solid timber.
Swift underlined: "The facilities we provide allow us apply specific client branding to fascia panels in a number of ways including screen printing, applied graphics or even laser cutting logos directly into the fascia panel itself."
Liverpool-based C&C Fabrications is also able to provide architectural superstructures over counters to support client branding panels and menus.
According to Swift: "In most instances for the servery counter schemes we are involved in, we are working very closely with the client and the appointed design team who are generally responsible for the aesthetic look of the counters. It's our responsibility to make their vision reality.
"The expertise we have allows us to provide any finish required to the highest standard and as such give the maximum visual impact from the counter. We believe that as long as the quality of the finished counter is nothing other than perfect, even the simplest of designs can be visually appealing."
He believes: "A simple counter with a black granite worktop and plain laminate fascia panels can look amazing, especially when you step back and look at the counter as a whole with the heated and chilled displays, glass display cases and display lighting.
"To further enhance the look of a counter you could include decorative LED lighting to both the fascia panels and kickplinth."
While Swift detailed that even though a finished counter will look completely bespoke, the modules that make up that counter more often than not are standard components. "This method of construction not only allows us to be competitive in a very competitive market, but it also adds considerably flexibility to a counter should the need for change arise."
C&C Fabrications can quickly swap a Ceran glass hotplate for a bain marie, as their footprints are the same. Likewise if counter length is required to be extended, the manufacturer can remove the decorative finishes from the modified end, add a matching profile counter section and then apply the finishes to the new section.
"Even with more extravagant finishes such a Corian, where the worktop and fascia are fully welded together, the nature of the material allows it to be cut, additional sections added and the new sections then fully welded to the old. The additional section would simply look like part of the original counter," said Swift.
In most instances the firm works on projects alongside both a foodservice consultant and an architect employed by the end user, with all three parties ensuring the counters are functionally and aesthetically correct. However, in instances where a scheme is solely managed by a distributor, C&C Fabrications will partner closely with the dealer and end user at an early stage to ensure it fully understands their requirements.
Providing CAD drawings, samples and mock-ups during the design stage enables the design team to get a good feel for what the end product will look like. Swift added: "It is at the mock-up stage we can give the option for any changes to the look or operation of the counters to be incorporated, and although this process can be time consuming, ultimately it will ensure the client is getting what they want, with no last minute surprises or disappointment."
At nearby Proline, it can offer fascia branding in a variety of ways, such as having back lit logos as attached, or using wrapping and with sign writing applied.
Estimating manager Paul Curran said: "There are so many various ways to finish a front counter that we are often led by customer design.
"We can only manufacture counters to the design of the client we are serving at the time. The use of clean lines and UV bonded glass boxes are more appealing to customers as they give a far better view of products on offer."
The manufacturer often swiftly modifies and refurbishes counters, and its heated and chilled displays are sized the same so give less cause to touch the worktop when replacing displays.
Curran explained: "We work closely with our customers to try and achieve their end goals, and we do get involved with the end user from time to time to offer valued opinions on types of displays and final finishes. For instance, there is a lot of call for concealed frost and hot tops; however not all worktop material can be used for this application so we tend to get involved with this element, advising the best material for the customer needs."
Over at Fri-Jado UK, its range of modular and custom counters is supplied with a variety of bespoke colours and finishes, including tiled, stone and wood cladding to create what is designed to be a unique and aesthetically attractive appearance.
It also caters for requirements to incorporate logos and signwriting for the personalisation of counter fascias to meet house styles and liveries. Director of national accounts Gary Thacker commented: "Our flexible design and manufacturing techniques enable us to work with dealers and end users to create counters with a stand out image.
"The fact that our custom counters are designed and engineered from scratch, to meet exact specifications, means that the number of configurations is limited only by the imagination."
Both modular and custom types are offered with square or curved glass profiles, which can be supplied as one-piece structures, eliminating the need for a metal framework and providing an unobstructed view of food. A variety of counter illumination options may also be specified to further enhance product visibility.
Fri-Jado's custom counters can be designed with straight or recessed underframes to meet customers' preferences, plus the firm offers a range of customisation accessories.
Thacker explained: "Crucially, increased merchandising flexibility is afforded by our triple glazed side panes, which allow counter modules, of various lengths, to be multiplexed together to create in-line configurations. The excellent insulation characteristics of the triple glazed side panes guards against heat transfer between modules, allowing hot and chilled units to be butted up against each other for a smooth and seamless integrated display."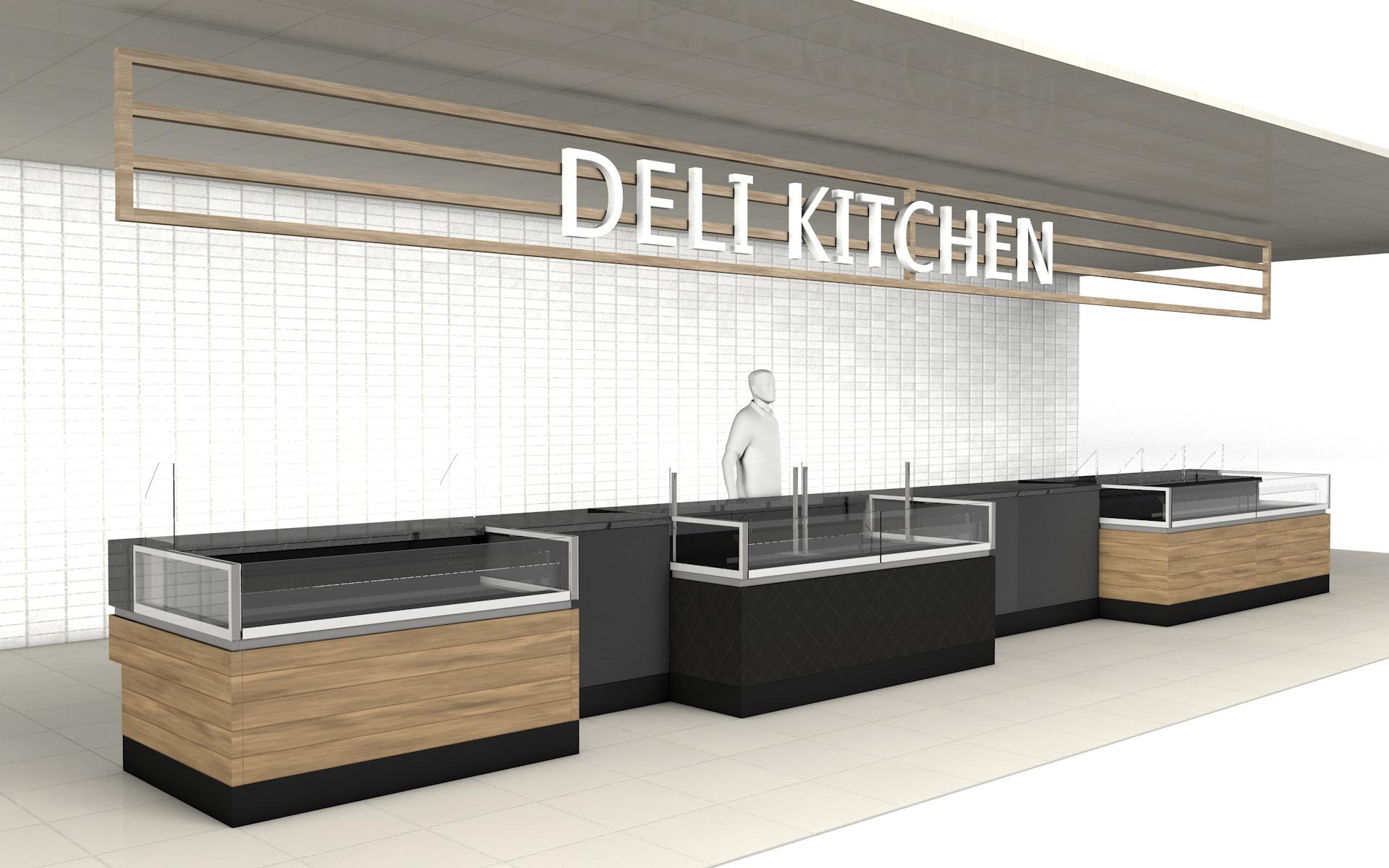 Fri-Jado offers a free of charge consultancy service to design its custom counters, with Thacker detailing: "Using our proprietary 'Configurator' 3D modelling software our design engineers are able to produce fully rendered illustrations of proposed counter layouts, providing total freedom in the development of innovative display solutions.
This allows our partners and their customers to view realistic representations of proposed designs at the concept stage. Bespoke designs are based on a range of customer supplied parameters, including size, profile, interior configuration, lighting and accessories. The software also simplifies the specification and quotation processes.
"We also have a demonstration kitchen at our Uxbridge office, where dealers can bring their customers to give them the opportunity to gain first-hand experience of our counter products and familiarise themselves with the features of our equipment."
Under warmth
Signature FSE supplies the Gastros Switzerland under-counter InductWarm 130+ to counter manufacturers and designers themselves. Paula Sherlock, MD of Signature FSE underlined: "Gastros' hidden technology works with different materials such as artificial stone, glass and wood. InductWarm porcelain dishes in gastronorm sizes or any inductive dishes such as cast iron in different sizes, shapes, capacities and colours can then be used to create an interesting display reflecting the site's decor."
The under-counter solution is designed so that guests will not notice the technology used to keep the food warm. "It will look smarter and more modern than heated tops or bain maries as well as enhancing the food quality and being more energy efficient and safer," said Sherlock.
Thanks to the use of field induction, the Gastros InductWarm 130+ model allows display of several food containers per zone. According to Sherlock: "The units can be installed as close as 15mm apart, creating a better use of display space, unlike other brands that require a wide gap between each induction zone. Because the model heats the dish and not the counter surface, several different materials and colours can be used such as artificial stone, glass and even wood."
Each Gastros 130+ is linked to a control panel that can either control the whole counter or be split across several control panels, providing flexibility to only use the number of zones as required or at different temperatures. Due to the hidden induction technology, when not in use, the surface can be used for other display purposes.
Sherlock concluded: "Our brand Gastros Switzerland offers technical guidelines and reports on surface materials to use with its 130+ undercounter unit. This is great way to create a completely unique counter."